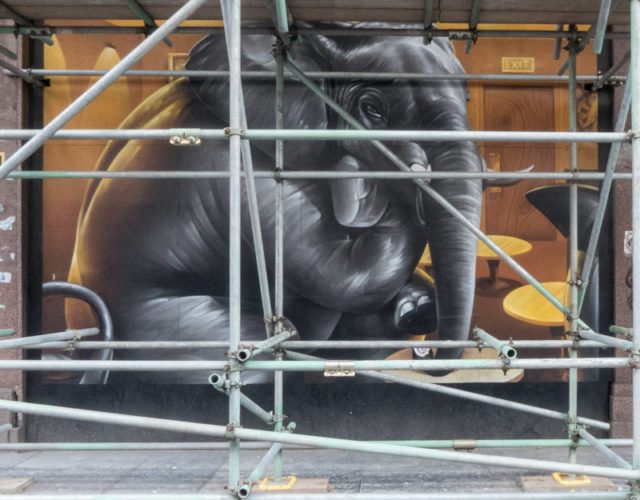 Late getting up and moving this morning and there was just a hint of snow on the ground.
After last night, we decided to get the bus into Glasgow. Everybody else had decided that was the way to travel too. But the time we were coming out of Muirhead, the bus was full, especially full of weans. Scamp thought it was Dad Takes The Kids Out Day. I thought she was probably right.
Went to look for a holiday laptop in JL. Sorry JIC an Scamp, whizz on to the next paragraph.  Y'see the problem is I like using Lightroom 6 which will allow me to process the RAW files from all my cameras, but LR6 on a PC only works with Windows 64 bit. The little Linx tablet I use is great, but its version of Windows is 32 bit. For stress-free work, I need a small (11" ish) laptop that works in 64bit. I thought I'd found the ideal one in an HP Stream, but warning bells were ringing. I'd seen a lot of them for sale really cheap as refurbished models and although their spec mentioned that they used Windows 10 64bit, when I did some digging, I discovered that the big problem was that they only had 32GB of storage and now that Windows 10 automatically updates itself regularly, it fills up that 32GB really quickly with its update files. This slows the system down and even worse, the processor is a Celeron which is slow to begin with. Bah! Back to the start.
Ok, JIC and Scamp, you can take off the blindfold and the headphones and return to the blog.
After a coffee in Nero we walked down Bucky Street and along to Argyle Street. Scamp was going to M&S and I was going to Millers Art Shop I was looking for a new brush. Got one after paying more than I'd intended and Scamp added a few new holiday clothes to her Wishlist. We couldn't decide were, or even if we were having lunch. It was so cold and there were flakes of snow blowing around and basically we had been out for an hour or so. The decision was made to just go home and order take-away tonight. Got to the bus station just as the bus started reversing, but the driver stopped and let us in. Thank you Mr Driver.
Back home we had a Golden Bowl dinner and watched TV before Scamp went to bed earlier than last night and I wrote up two days' blog posts. PoD is called Behind Bars. It's a shot of part of a panoramic painting on a building on Argyle Street through some scaffolding poles.
Tonight it's snowing again. Hopefully it will be gone tomorrow afternoon and we'll get to Sunday Social. If not we'll stay at home.