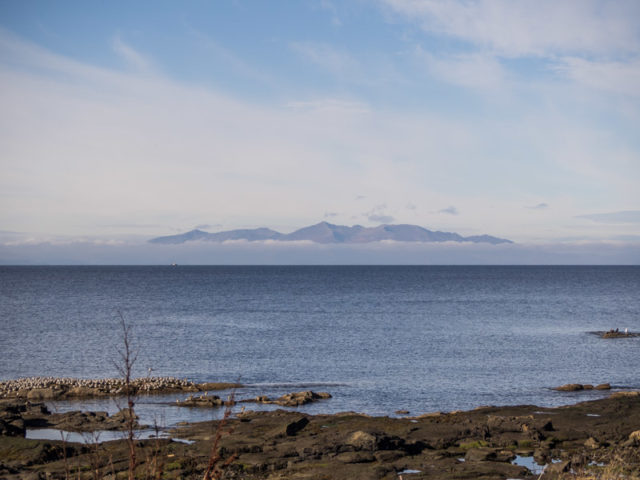 Up and out we said. Up and out it was today.
Breakfast downstairs today and out for 10.30. Off to the seaside. I chose Troon as our destination. It began to look a bit dicey when we climbed up the M77 to the top of Fenwick Moor and drove into the low lying cloud. Fog lights on and we carried on. Thankfully after about 15 minutes we were back into sunshine with the cloud looking like a grey wall behind us. From there it was sunshine all the way to Troon.
Couldn't get parked at the first car park, so we carried on to the one we used to go to round by the harbour. The place with the crashy waves. The waves weren't crashing today, in fact the sea was very calm with only the slightest movement. Arran's peaks were poking through some low cloud and made a great PoD. Taken by me, chosen from the sixty odd others by Scamp. We walked round the Ballast Bank by the low and now notifiably DANGEROUS path. Sat for a while on one of the seats by the path. Beautiful views over to Horse Island and Ailsa Craig in the distance. Listened to the hundreds of seabirds on the exposed rocks. It could have been summer, sitting in the sun with the high banking sheltering us from the sun.
Eventually we gave up our seat and walked on into town. Nearly at the town Scamp's cousin appeared with her daughter and the two of them had a long catch up, nearly blocking the path for everyone else. Eventually we split up and went our separate ways. We walked as far as the wind surfers' car park at the far end of town. There we turned and walked back in to town. I suggested we go to the Venice cafe for lunch. The best part of half an hour for a roll 'n' sausage and a roll 'n' scrambled egg. It's not that they were busy. We were the only ones waiting to be served. No apologies, nothing. Scamp told them in no uncertain manner that we wouldn't be back. I don't think I've ever heard her say that before. That will give you some idea of how angry she was. Now we know why it wasn't busy.
Walked back to the car and who should we bump into again? Elspeth and her daughter. They had been to Scotts for lunch and that's where we had been heading before we met them. Don't see some folk for ages, then you see them twice in the same day.
Drove home through the usual 4pm traffic. No low cloud or fog this time, just loads and loads of cars on a busy road.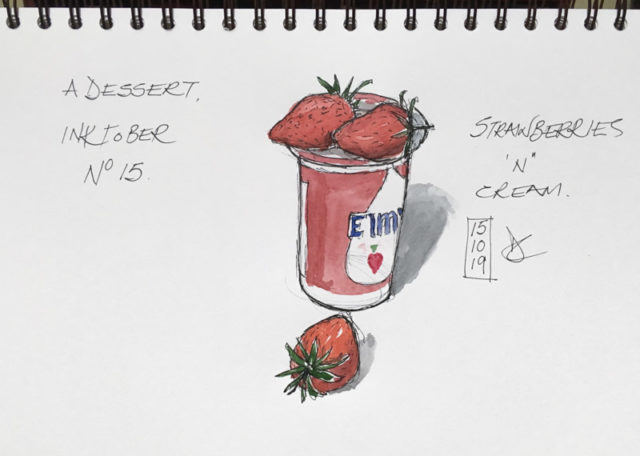 Sketch today was "A Dessert". We had Meringue with Strawberries and Cream for tonight's dessert and I attempted to draw that, but wasn't impressed with the attempt, so I drew Strawberries and Cream instead. Three strawberries and a tub of Elmlea. I liked that one!
Maybe we should keep that Juke. Today we started out with 274 miles predicted in the tank. We arrived home with 295 miles predicted in the tank. It seems like the petrol tank is related to the Magic Porridge Pot that never emptied!
Tomorrow it's dancing in the afternoon, hopefully.