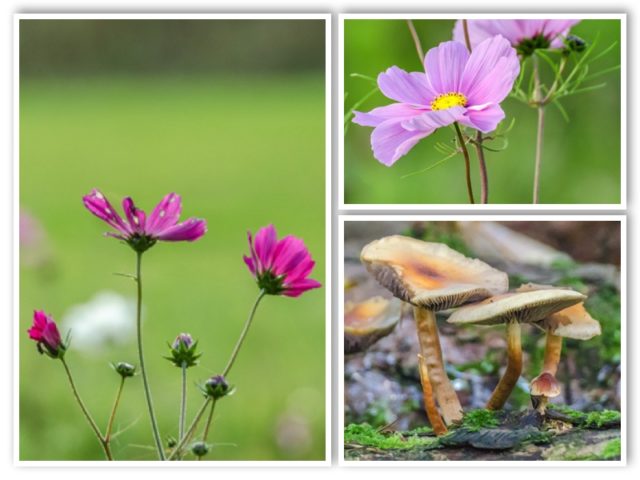 Left home on a bright sunny morning heading for Perth to get essential supplies of tea and coffee.  Scamp was going to a Christmas musical with her aunt.  A Christmas musical in October?  Really, that's just a wee bit ridiculous.  Yesterday at the Art Galleries I saw my first Christmas tree this year.  Too early, people!
Most of the journey to Perth was fine with great visibility but about ten minutes out of the city the mist came down.  After that the heavens opened up to dump gallons of rain on me.  Well, it felt like it was all just on me, but I suppose others were getting wet too.  It stayed like that for the two hours I stayed in the Fair City.  I'd had enough.  I had my coffee beans, my tea leaves and a piece of cheese as a bonus.  Home was calling.  When I drove back down the road, at exactly the same place where the rain had started, the rain almost stopped.  The rest of the drive was in the dry and when I got home, I got out of the car into sunshine.  I presume the gardens in Perth need the rain.
A roll 'n' sausage improved my state of mind as it always does.  Went for a walk to St Mo's with the Nikon to get some photos.  There wasn't much to see, but lots of little fungi and those big ones too.  The flowers in the wildflower garden are a joy to behold.  Thankfully the gardeners haven't cut them down with their usual unthinking efficiency.  At least, not yet.
Dinner tonight, once Scamp arrived back was courtesy of Golden Bowl.  Chicken Chop Suey and Fried Rice times two.  Delicious as usual.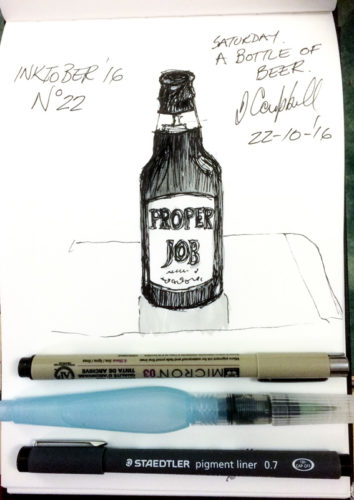 I couldn't settle on a subject for tonight's Inktober drawing and then I found it, sitting right in front of me.  What better subject on a Saturday night than a bottle of beer? Difficult because of the symmetry of the bottle and also because glass is difficult to render in pen, I find.  I did use a bit of brushwork to even out the glaze, but other than that it was just pen work.  Quite happy with it.
Tomorrow?  Who knows.  Possibly a walk if the rain stays away in Perth and doesn't travel down south, but other than that I'm open to suggestions.  Hoping to get some sketching done outside.