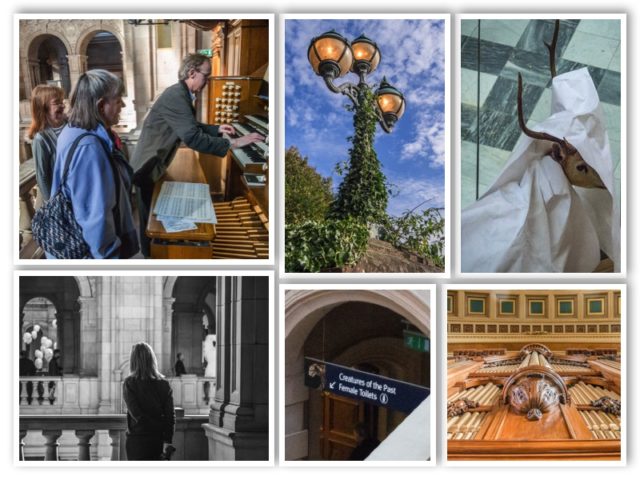 It was Scamp's suggestion that today we should travel in to Glasgow on the bus and then take the subway (AKA the underground, definitely NOT AKA the tube) to the West End.  From there, I could choose between the Botanic Gardens and the Art Gallery or to give it it's posh name, The Kelvingrove Art Gallery and Museum.  I chose the latter.
Walked to Condorrat to get a fast(er) bus into the Toon.  Coffee first (in Cafe Nero of course), then the subway out to Kelvin Hall which is about half a mile from the actual Kelvin Hall, but who cares.  We walked along to the Art Gallery, although we always called it the Art Galleries and I suppose we always will, and entered this grand space.  I remember my dad and my Uncle Jack taking me to this place and amazing me with all the things to see in it.  My Uncle Jack as well as being a mine of information about Glasgow in general, was very knowledgable about painters and paintings.  He would tell me the back stories of the paintings in the gallery and explain what the painter was trying to say.  My dad was from a mining family and he would show me the models of coal mines and explain in detail what all the parts pit head buildings did.
Scamp was delighted to find that the organ recital was at 1pm and it was now 12.45pm.  I was delighted because I knew where she'd be while I searched out a piece of armour to sketch. I'd seen a TV program a couple of years ago where they literally took apart a suit of armour and explained what each part did and how the pieces were put together by the armourer and the blacksmith.  Since then I've intended sketching armour and this was the ideal opportunity.
Once the sketch and the recital was complete, we met up again. Scamp had enjoyed the recital and had found out that they did tours of the organ.  She'd like to go, but not today.  Next thing, she's following an information assistant through a side door and motioning me to follow her.  Climbed a couple of flights of stairs, through a wrought iron gate along a passage way and ended up in the small balcony where the organist was demonstrating how the organ was played.  It's a massive beast of an instrument when you're up close.  The organist was really great, explaining what all the stops did an the multitude of pedals.  The only thing he didn't do was give her a shot at playing Vidor's Toccata or something although I could see she was itching to have a go.  Yes, yes, Scamp, I know it should be Widor's Toccata, but that just doesn't look right and it's my blog, remember.  I took the chance to get some shots from a viewpoint I probably wouldn't be in again and it was quite a remarkable half an hour.
Anything else would have been a disappointment after that, so we headed for lunch which was in a wee Indian tapas restaurant we had been to before at the bottom of Byres Road.  The food was excellent.  Fish Pakora and Buttered Chicken were the stars for me.  Lovely light nan, but it had cooled just a little bit too much for us.  Still delicious.
Walked up Byres Road and had a beer for me, 3 Hop Edinburgh Lager (Poor, very poor) and a G&T for Scamp in Oran Mor.  We even sat outside and drank them.  It was that sort of day.  The sort of day to just take your time and enjoy life.
Subway back to Glasgow City and the bus home.  Job done.  Had a great time.  Brilliant idea Scamp.  Let's do it again some time soon.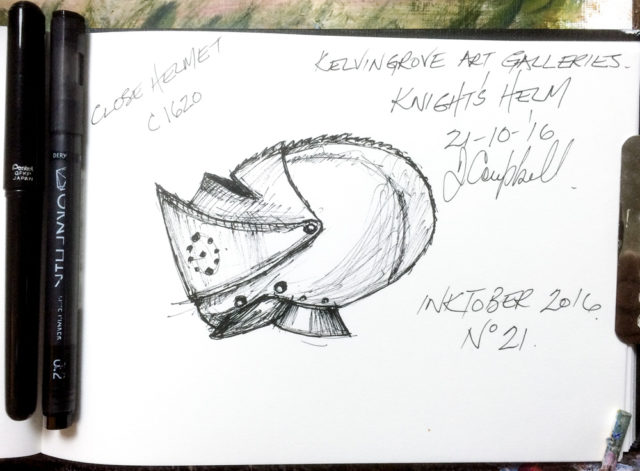 Today's Inktober sketch is of a knight's helmet from c1620 (which is twenty past four in the afternoon for those who don't understand the 24 hour clock!)  It amazes me that people could not only wear one of these medieval crash helmets, but they could ride into battle in them.  They could fight in them.  Many of them could die in them.  If they were knocked from their horse in a battle, what chance did they have of standing up again?  Having said all that, when you examine these pieces of armour, they are beautifully made and the attention to detail is fascinating.  Little bits of brass (surely not gold) worked to look like rope that adorned the edges of the eye slit and the neck piece. Exquisite workmanship, and it's safe to say workmanship, because all the armourers were men.
The remainder of the photos were taken in or around the Art Galleries.  If you've never been, or if it's a long time since you've been.  Go and get some culture for a change instead of wandering down Bucky Street, along Sausage Roll Street or dodging the jakies in Argyll Street.  Have a curry in that wee curry shop, it's called Usha's at the bottom of Byres Road.  Don't bother with the 3 Hop Lager.  It's basically Heineken who own Caledonian who make 3 Hop Lager, strangely enough.  Head back in to town and have a draught Bitter & Twisted in The Horseshoe.  That's the makings of a 'Good Day in the Toon'