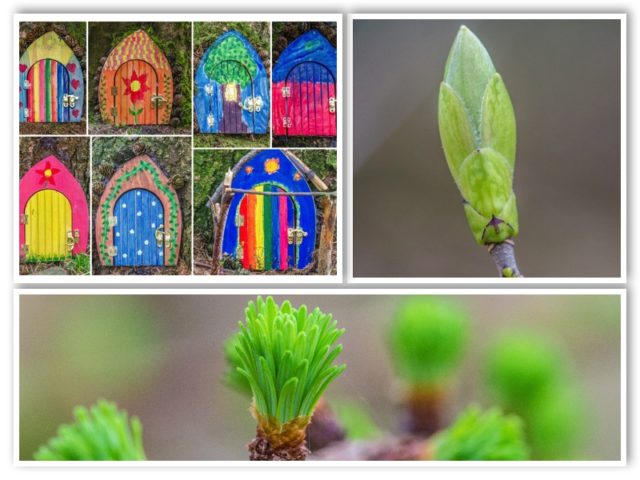 Today five auld guys had their first meeting of the year.  In fact, it might be the first meeting since August last year!  How we drift apart.  After a couple of beers in the Horseshoe Bar in Drury Street, we moved across to Paesano in Miller Street for a pizza.  Five pizzas later ( five total, that is!) three of us headed back to the bar for another beer before we split up and went our separate ways.  Thankfully, Scamp came to pick me up from the train station because it had started to rain.  It was good to get back in touch with everyone and we must do it again, but not leave it almost half a year next time.
Earlier, in fact quite early, I went for a walk in the woods at St Mo's and found that a group of little 'Hobbit Houses' had arrived.  I'm guessing that this is the work of one of the local secondary schools.  Behind each door was the picture of an animal.  A lovely idea.  I think I got photos of all the little doors.  After that Scamp ran me to the train station where I met Fred.  We went for a walk through the 'Toon' before we headed to the pub to meet the others.  The walk involved a quick trip to Cass Art of course.  Bought myself a mapping pen and some nibs.  Old school drawing, but I like the effect you get with indian ink and it wrecks fountain pens, but doesn't damage the old fashioned dipper pens.  I was looking for a bottle of granulation medium, but that's too unusual for them to carry, so it looks like I'll need to go to Millers later in the week.  How I miss the Art Store now.
No sign of the weather improving tomorrow, or Friday.