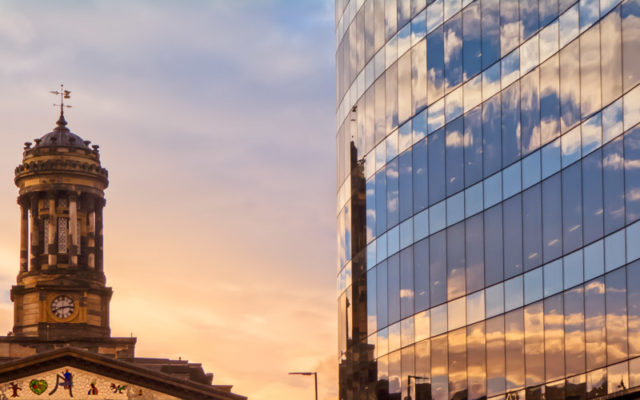 Nothing much happened to brighten the day apart from mince 'n' tatties.
Out early with Colin to a funeral in Airdrie for one of our old colleagues. As usual at funerals we both met folk we hadn't seen for years.
Came home, got changed and Scamp and I were off to Glasgow for Dancin'. Learned a new part of the Lindy Hop routine. Our first Waltz was amazing. We hardly put a foot wrong. Later in the routines our quality slipped, but we were complimented by both teachers who confirmed that we were certainly improving greatly. Quickstep was ok until we tried the Fishtails' which looked easy until we tried it. I video'd Michael and Anne Marie dancing it and we can practise it for next week.
I grabbed a couple of shots of the GOMA on the way home, and home is were we went after a coffee and a discussion of our progress in Nero.
Back home I took some time processing the shots in Lightroom and ON1 and what you see at the top is the PoD. The GOMA and 110 Queen Street in one frame with a decent sky looks interesting.
Mince 'n' Tatties with Cabbage for dinner.
Drove in to Glasgow tonight and were disappointed to discover that Shannon was booked to teach the 7.30 class, because Jamie wasn't there. We didn't stay. There seem to be fewer and fewer classes by Jamie recently. He is a great teacher, but only when he's there. Neither of us could stomach a full hour of class being taught by Shannon. She raises nit-picking to an art form and also, you simply don't get a chance to dance. All she seems to do is repeat, repeat, repeat the same move until everyone is pig sick of it. Worst of all, she thinks she's a good teacher. Delusional. I don't know, we've just cancelled the gym and swim this week (the letter was posted today). Hopefully we won't have to take time off from salsa too. That would probably be a bridge too far. Something needs to be done by Academia de Salsa in the mean time. Lots of good teachers have left the group or had their teaching commitment drastically reduced. What was once a five strong teaching team is now reduced to two (if you count Shannon). There are three junior instructors, but we've forgotten much more than they'll ever know, and I purposefully didn't include Bachata and Cross Body teachers as that's not salsa. Not real salsa. A difficult and disappointing situation. I don't really mind driving for half an hour through mental traffic on a Monday and a Wednesday to get to the STUC building, but I really, really object to doing that only to find it's not the advertised teacher taking the class.
So that was today. Not the best day ever, but it can only get better. No plans for tomorrow, but the weather doesn't look like improving.