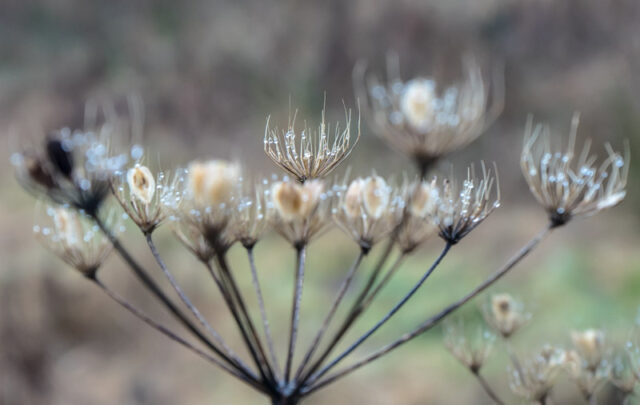 Fog in the morning that seemed to disappear, then returned.
We had intended going for a walk in the morning because the weather fairies said it was going to rain in the afternoon. Unfortunately, they didn't mention the fog that lingered for most of the morning. Luckily for us we didn't go out, because we had a long phone call from Hazy. Thanks for the link to website, Hazy. Interesting way it presents your reading data. Also looked at Murderbot Diaries.  Look forward to seeing the circular weaving.  Video was very interesting.  I imagine I wouldn't have the patience for that sort of creativity!
Ticked off the first of my list today by lugging the last of the Christmas decorations up into the loft an by then it was time for lunch, which was the last of Scamp's "Just Soup".
It was still a bit miserable outside, so Scamp decided to forego the joys of a damp walk in St Mo's for the questionable entertainment of River City on the TV. I chose St Mo's and walked round the back of the school to get today's PoD which was some dewdrop sparkle on a cow parsley plant courtesy of the morning's fog. It's up on Flickr now, but joining it is a photo from exactly a year ago. A macro of some moss on an old tree branch. I thought it might be an interesting idea to post some old photos of the same day but a different year, starting with 2020 in January and hopefully 2019 in February and see how far back I get. I see a lot of folk doing similar things on Flickr. Mostly posting holiday photos, paired with photos of the dull lockdown lives we are leading now. Let's face it, we need something to cheer us up.
Scamp had made Cauliflower Fritters for dinner. This is the second time she's made them and they are really delicious. They were the starter and a fiery veg curry was the main. Boy! It was hot. We both needed ice cream to cool our mouths after that. It was hot, but strong on flavour too, so no real complaints from me.
Back to the list and then next thing to do was get rid of the heavy beard. It's great on the cold days because it does keep my face warm, but it's just not me, so it had to go. Only took about ten minutes to prune it back to its usual goatee. I feel so much more like myself now. "Buzz the Fuzz" was its name on my list of things to do!
A little more than a year ago a company called Affinity gave away 90 day 'trials' of its software to encourage people to be more creative during Lockdown 1. One was a DTP package. One was a photo editing package very similar to Photoshop. One was a vector graphic design app. All of them were very good and also good value because they dropped the price by 50% if you wanted to buy them after the 90 days. I bought the photo editor because my Photoshop is really old and behind the times now. I don't really have a need for vector graphic editors and besides I've used a couple of open source ones in the past quite successfully. However I don't have a DTP package, so I bought their version today and it's very capable. Much better than Apple's Pages app which is what I've been using up until now. If you need any of these apps, Affinity is worth a look. They work on Mac, PC and as far as I can remember on iPad too. I'll put a link at the end of the blog.
Well, I had five things on my list today (odd number and a prime number too) and have scored all of them off. No list yet for tomorrow, but I'm sure something will come along. Maybe a painting with those paints Hazy. Also on the cards soon will be a gingerbread house, JIC.
Tomorrow is still forecast for snow and rain. What a nice mixture. We may go out for a walk if it stays dry long enough.
Affinity (used to be called Serif) – https://affinity.serif.com/en-gb/