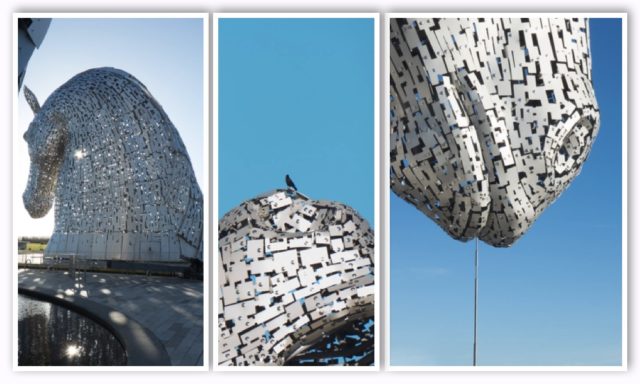 This morning broke early, too early say some, namely me.
The taxi phone didn't ring until almost midnight last night. Apparently they were having such a good time … That meant that by the time I drove to the other side of town, picked up Scamp and Marge, dropped Marge off, returned home with Scamp and finally parked the car, it was almost 1am before I was staggering off to bed. So, when my Fitbit alarm vibrated on my wrist this morning at 8.30 it was a struggle to climb up through the layers of sleep to see the day. The up side was it was a beautiful day.
After breakfast, Scamp suggested we go to visit the Kelpies at Falkirk. That seemed like a great idea. It would get us out, give us a breath of fresh air and we wouldn't visit any shops in the process. Besides which, the Kelpies always brighten your day no matter what mood you are in.
We arrived and walked round them, always finding something new. Some little thing or a different viewpoint. Today, my PoD was the dribbling Kelpie. Just a lamp standard on the motorway and a carefully chosen VP.
A cup of coffee and a scone each was lunch and then we drove home. Scamp was going out to meet 'The Witches' in the afternoon and I used that time to finish off my fourth painting of trees. Maybe the last one in the series, I'm all treed out now I think. Looking for new pastures. It was overpainted twice today and that's on top of another two layers. One of the good things about corrugated cardboard is its strength. I put that strength to good use. If you're looking for it, it's here and it's 28DL – No 2:
Dinner tonight was a pizza, home made and baked in the new combination microwave. Not 'nuked' but baked in the Convection oven. Just under 10 minutes then crisped up the base in the frying pan (no oil!). Washed down with a couple of glasses of Malbec. Hopefully getting this written earlier than normal to get to bed earlier and make up for lost sleep.
Tomorrow looks wet, so we may go to The Smiddy for lunch.