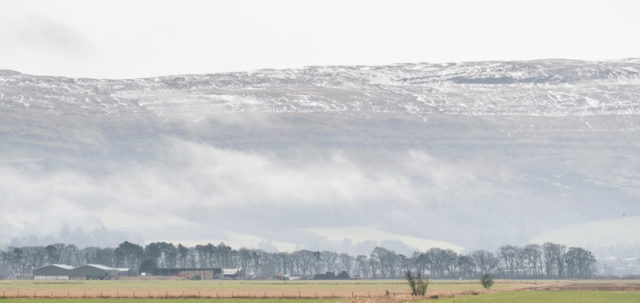 It was one of those days. According to the weather fairy it was going to improve in the afternoon. Perhaps she needs to revisit the dictionary of the meaning of 'improve'.
We had decide to drive to The Smiddy near Blair Drummond for lunch and the possibility of a couple of photos, if not a sketch when the weather improved later in the afternoon. We drove through the increasingly heavy rain to get there and just a we were turning in to the restaurant/cafe the rain eased, just as they said it would. Away to the north west the sky was definitely clearing and there was the hint of blue sky there. Lunch was a Smiddy Burger for me and macaroni and cheese for Scamp. Both served with skin-on chips. The chips were oily and delicious, I knew I shouldn't eat them all, but I just kept going until they were finished – so did Scamp. The macaroni seemed to go down well too. The too-thin burger was covered with melted cheese, bacon and mayo. Not a good choice and not one to put your name to, in my opinion. Last week I paid the same money for a nice thick home-made tasting burger in Scott's in Troon. This was nothing like it. However, one bitten twice shy. In fact I wish I hadn't bitten at all.
By the time we were coming out, the blue sky had gone, the sky had given up on the clearing and was returning to milky white. So much so that it looked like the colour had been drawn out of the landscape. I did grab a few pictures, but not many. You can see the best of them up at the top.
The rain kept up all the way home. I couldn't be bothered going out to St Mo's because I didn't think I was going to get any more interesting images there. Instead, I started writing new Hazel code to organise my Documents folder on the iMac. It's halfway implemented and it's doing a fairly decent job of making a more logical filing system for the PDF files.
Today's sketch for 28 Drawings Later is a half peeled orange. I quite like it. Sketched with the Blackwing soft pencil Hazy & ND'A gave me for Christmas and painted with Cotman watercolours on a cheap cartridge paper. It really deserves a better support, but I like the 'tooth' of the Tiger cartridge paper.
Watched the final program in the BBC series 'Surgeons: At the edge of life'. If you haven't seen it, you really should. If you think your own job is stressful, watch these people and admire the work they do. Totally engrossing and leaves you wondering how a person can do that sort of thing day after day.
Tomorrow? It just might be better than today, but I'm not convinced. Probably dancing for part of the day.