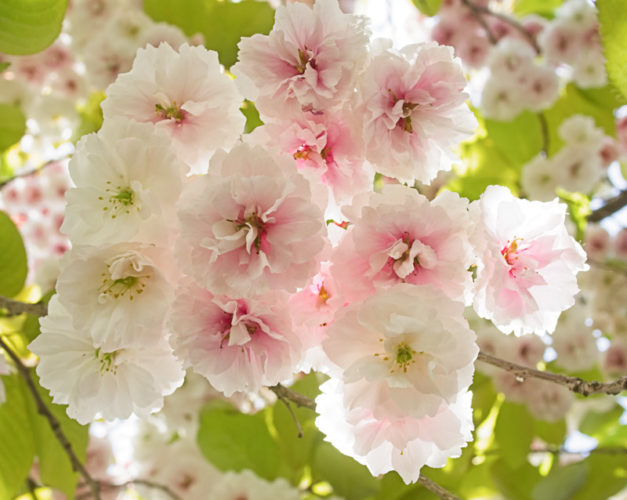 Today was a scorcher. We decided to go to Dunfermline for a walk in the park.
It looked like we had left it too late because there seemed to be no room in the usual car park at Pittencrieff Park. We even tried going further in to the park, but there were no spaces there either. Then Lady Luck smiled on us and as we were leaving I decided to have one last run round to see if anyone had moved. Someone had and it was a space under a flowering cherry tree. So not only did we have a space to park in, we had a nice flowery parasol to shade the Juke from the sun! I even took a couple of shots of the parasol and that made PoD.
We walked in to the park and, as the ice cream van was there and it was sunny, we had a cone each with Mr Whippy ice cream. Two of my readers will maybe remember Papa and Gran calling a cone, a pokey hat. That's what we had, a pokey hat each. It was lovely ice cream too. Walked over to the long greenhouses at the far end of the park and while Scamp sat outside I went in for a nosey, mainly because the last twice we've been in the park, the greenhouses have been closed. Not today, and it looked like there had been some cleaning up done since we'd last been there. Also lots of the plants had labels on. Really useful.
Scamp had noticed an improvement to the general condition of the park too and as we walked round the formal garden, it was obvious that some time and money had been spent on it. Not before time.
We walked up into the town, but there isn't much to see or do in Dunfermline now. It's just like so many Scottish towns, more closed shops than open ones. It gets a bit depressing seeing it all over the country. We had coffee and shared a panini in Nero and then made our way back to the car. We visited a wee garden centre on the way home where Scamp got some trailing plants and I got some kale plants, because I kept forgetting to plant the seeds. I'll put them in the raised bed tomorrow, hopefully. I also got a tap adaptor for the garden hose. Unfortunately when we got home I discovered that it wasn't the right size for the kitchen tap, but it did fit the downstairs toilet, so we could at least water the front garden tonight. The hose is a Hozelock, and the adaptor is a Flopro, but the are interchangeable. What a brilliant idea. Both systems can live in harmony with each other. Wouldn't it be great if our esteemed political parties could do the same!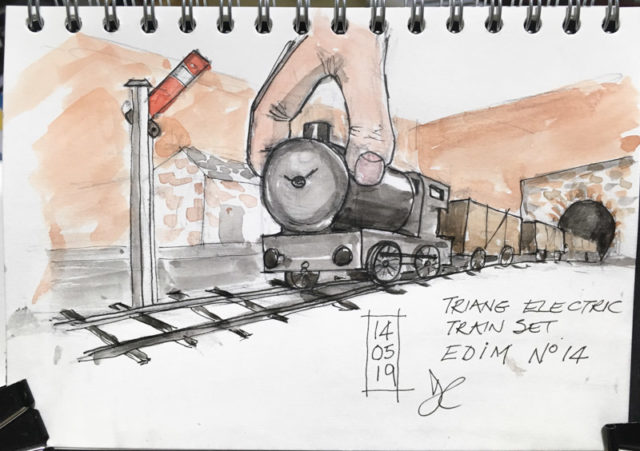 Came home and drew today's sketch which was A Toy.
Now found out at 11.15pm that the front door has locked itself shut and won't open. It's a UPVC door with the long bar running the height of the door. Locksmith needed in the morning I think. It may be a long day tomorrow!