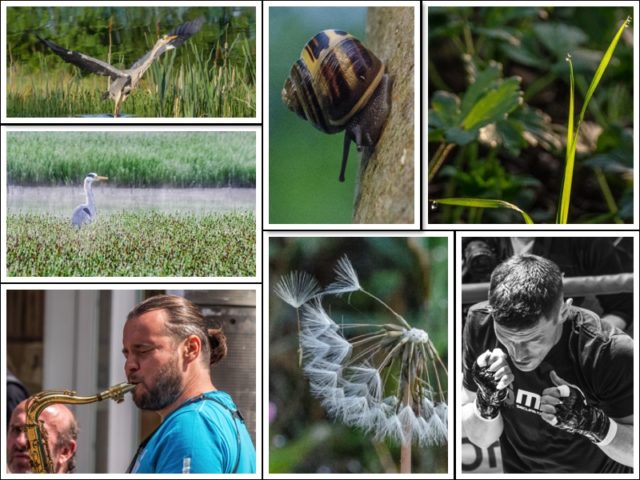 Drove in to Glasgow just for a walk and to get some stuff for the hols.  Didn't even go to the art shop!
Actually, that's only half the story.  I woke about 4.20am and couldn't get back to sleep.  I think it was all that sitting around on one train, then on another train, then on one more train.  Hardly walked anything at all, so I just wasn't tired, so I got up and dressed and went over to St Mo's to grab some of that early morning light.  It was a good decision.  Got some nice captures of closeups with that lovely light.  There was a bit of mist on the pond, but if I'd been just a little bit earlier, it would have been better – never happy.  Used the macro lens for the closeups and as usual was impressed with the sharpness.  See if you can spot the reflection.  You might have to go to the Flickr feed to spot it.
In the town I was listening to the bloke playing the sax.  When a photog started taking his picture he began to ham it up and I decided I'd have a piece of that too.  I liked the close cropped shot.  When we walked through the St Enoch's centre there was a boxing promotion with a ring set up.  Ricky Burns did a bit of shadow boxing and I managed about 6 shots of him.  The mono was the best.  I liked the gritty feel of it.  I felt he looked like a boxer.
So that was a long day, but even now I don't feel tired.  It was a great start to the day and the rest wasn't all that bad either.
Repairs day tomorrow.  Doctor and Dentist – a glutton for punishment!