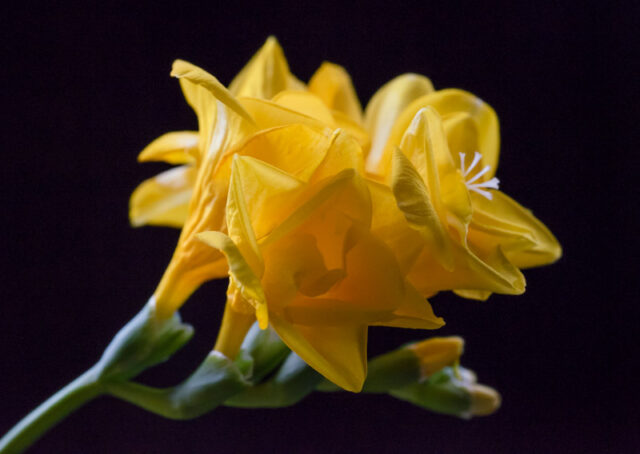 It started off dull and foggy, but it ended up much better.
We hadn't anywhere to go today and no real reason to go there anyway. However we drove over to Kilsyth on the pretext of going shopping in Lidl. I wanted a bottle of their excellent Hortus gin and Scamp wanted 'messages'. We achieved our aim and got both. I was very good and didn't open the gin right away when we got home. Instead, I went out for a walk in St Mo's but that's not where today's PoD came from. I got that much earlier.
The light was beautifully soft for a while after the fog had lifted and so had the heaviest of the clouds. The freesias on the windowsill were looking great and I grabbed a few shots, but I knew they would look better on a dark background. I hung Scamp's black cardigan on the handle of the window and banged off another half dozen shots, one of which Scamp chose as PoD. No cardigans were harmed making this picture.
The trip to St Mo's was just because the light was improving and I did find some more subjects. A tiny little spider for one. The first spider I've seen this year. Another was a little branch from a weed with lots of water droplets, probably from the morning's fog, shining brightly. It seemed to be one of those days when you couldn't put a foot wrong. Except I did put both feet wrong and came home with wet sox again!
Scamp suggested we do a Golden Bowl (best Chinese food in Cumbersheugh) and I readily agreed. Chicken Chop Suey with Fried Rice for Scamp and Special Chow Mein for me. Washed down with a glass of Red.
In the evening we practised the waltz routine and it is looking good. Much more 'together' than it's been all week. Partly due to S&J's video, but more to do with Scamp breaking things down and working out whose foot goes where, when. We also found the real name of a song Stewart uses for the rumba routine. Tried Shazzam, but it's rubbish now. Used Sound Hound and it worked first time. It's now in the dance music folder in Spotify.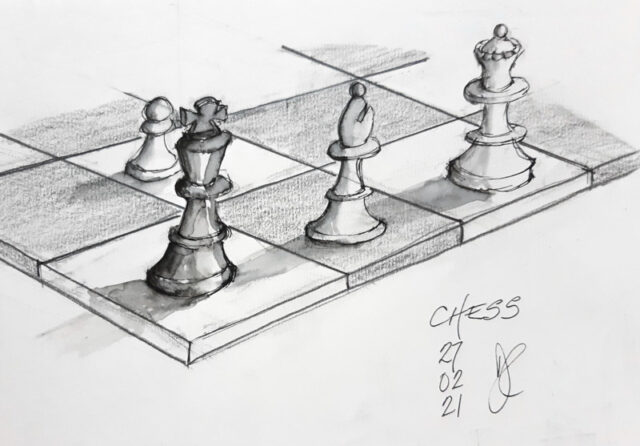 Today's topic was "Chess". I dug out my old wooden chess men and set them up to fight. Black lost. That's what happens when you paint yourself into a corner.
If the weather is decent tomorrow we may go for a walk somewhere.