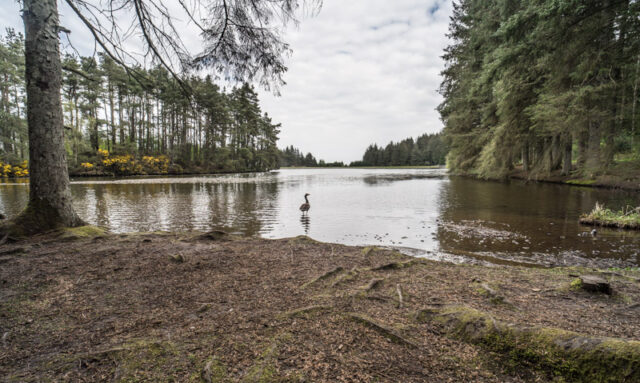 Beecraigs Park
Scamp was in agreement and off we drove to Linlithgow where we climbed (in the car) up a never-ending hill with speed bumps every 50m or less for an astounding 1,030m. If you do the division, you will discover that's a helluva lot of speed bumps. Probably quite useful for boy racers coming down that hill, especially at night. However for me going up it was literally a pain in the bum. Eventually we drove into a mono-blocked and grassed parking place. Neither of us remembered this. We walked through and down to the Information Centre which I thought I remembered, but then realised it was much newer that it looked at first glance. Great panorama from the viewing gallery down to Linlithgow itself and across the Forth to Fife. This wasn't the Beecraigs we remembered.
We walked down the road past the new caravan park and found the entrance to the park proper. This was more like it. What looked like a pedestrian bridge reminiscent of the old walkways over the lines at railway stations took us over the deer fence and on to the wide paths between the fields. The bridge, too, gave great views over the Forth, but where were the deer. There were cattle in the park where the deer used to roam. We found the deer further down the path, just hind, although the sign said there were stags in the field. If there were any the were cunningly disguised as hinds. We walked on.
Further along the path we came to the Loch. At least that hadn't changed significantly, although because of Covid restrictions the two man rowing boats for fishing the loch were securely locked up in a pound. I suppose it's hard to keep a two metre distance in a wee rowing boat. The geese and their goslings didn't seem too bothered with the two meter rule.  They were too busy teaching the youngsters to swim and to feed properly.  It was good walking the paths through the enormous pine trees round the loch. They do say the air blowing through pines is good for your respiration. Our biggest disappointment in this new, ecologically friendly and Health & Safety conscious park was the children's adventure playground. What had been an enormous pyramid constructed from ropes and bungee cords was now a shadow of its former self. I don't know if you remember it JIC, but I don't think you'd have felt a daredevil climbing that. With that said, lots of weans were screaming and shouting as they found their own adventures in this playground.
We eventually found our way back to the car and drove home down that steep hill with its uncountable speed bumps. We agreed we'd go back again. PoD turned out to be a goose standing proud in the loch. It seemed almost prehistoric to me.  I can't explain why.  It was a close run thing between that and a monochrome shot across the Forth with the bridges on the right. It'll be on Flickr as soon as I can get it loaded.
Dinner tonight came courtesy of Golden Bowl. Scamp had her usual Chicken Chop Suey and Fried Rice. I had Sweet and Sour Chicken Balls. Maybe my last one because the sweetness was just too much for me and I felt a bit ill afterwards. Chicken Chow Mein in future.
Short practise of the Cha-Cha tonight, mainly because we got the video of it today. Sketch topic was Medicines and my two bottles and a tube are here for your perusal. Glad you liked yesterday's socks Hazy and recognised both your handiwork and also your repair!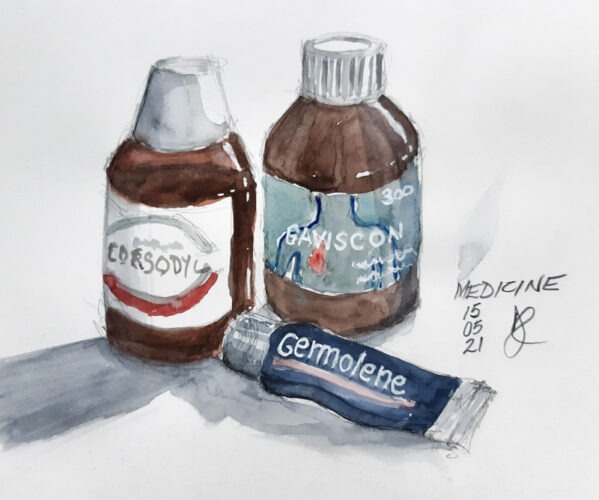 Tomorrow, if the weather allows, we may go for a walk.