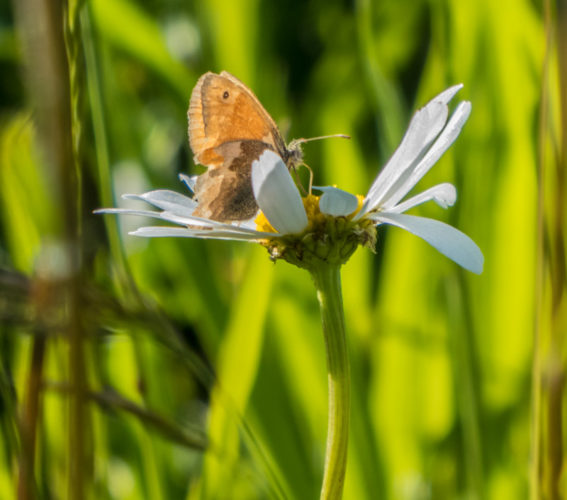 We'd hoped for a brighter start, but the weather fairies told us to wait and all would be sunshine an light.
Dull milky white sky, but Scamp got an email that put a smile on her face. It seemed that her new tablet case would be delivered today. We waited for a while and still the white cloud persisted. Finally after lunch the parcel arrived and so did the sunshine. Once again the weather fairies had proved that all those expensive computers were worthwhile and that we should have patience and wait for the good weather to appear.
After lunch and after watching Andrew Marr try to antagonise Rishi Sunak without success (He actually answered every question Marr fired at him) we decided what to do with what remained of the day. The walk or cycle debate was solved by me saying I'd take the sunshine as a sign that it would be a good day to cycle. Scamp did some dinner preparation and then relaxed in the garden after some 'essential gardening'. Rearranged pots to her satisfaction. I went in search of something worth photographing using the Teazer 90. I couldn't find it to start with, but after searching all the likely places, stated looking in the unlikely, but possible places. Finally found it in a Bergy jacket in a cupboard. Not only that, I thought I'd found my glasses that I'd lost a week ago in the same jacket. That didn't seem likely, because the jacket had been in that cupboard for at least a month. It appears that I've found a pair of glasses that I thought I'd lost around Christmas last year. Still haven't found their replacement. If its taken me six months to find one pair, and I lost the replacement pair a week ago, does that mean I'll find them (the replacement pair) somewhere around Christmas 2020? Time scale seems to work, not sure the logic does. Personally I blame the Hortus gin!
Cycled to the waste ground near Drumgrew bridge and watched the bees gathering nectar from the flowers. Found a conducive Small Heath butterfly which sat on a Marguerite flower for enough time for me to focus and grab a few shots of it. Its wings were a bit battered and bruised, but I'm happy that my ID is correct
Back home we had some time sitting in the sun and drinking non-alcoholic Lime cordial and water while the sun slipped down the slope of the afternoon. Dinner was fillet steak from Lidl for me and salmon for Scamp with Jersey Royal potatoes, broccoli and cauliflower. Coffee in the garden afterwards. Tried Amoretto coffee for the first (and last) time. One of Scamp's favourites. It tastes like I'd imagine liquid marzipan would. Such a waste of good coffee.
Not a bad Sunday after all, especially given the poor start. Tomorrow we have no plans, as yet.