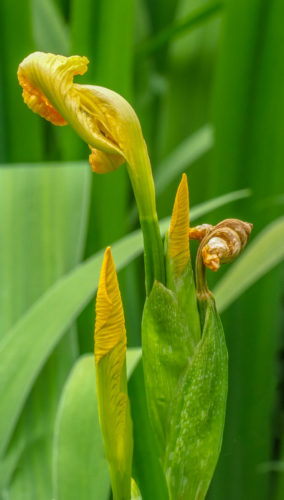 Parcel delivered first thing this morning. The lens looked perfect
Stuck the lens on the E-M1 and took a few experimental shots. It seemed to be fine, thank goodness. Unfortunately the day was very dull with hardly any shadows to give shape to potential subjects. However, I took it out to St Mo's to see what was worth photographing. The place that had been overrun by dog walkers and families out exercising over the past few months was decidedly lacking in visitors. The reason soon became clear. A crowd of between twenty and thirty nutters who should really have been in school were roaring and shouting their collective heads off in the woods. Now, Nick the Chick had just been pontificating on TV, telling everyone that schools would be very different after August and how the pupils and parents would need be prepared for a "blended" approach involving face-to-face teaching and at-home learning. I don't know how they are going to wean these teenage drunks off the booze long enough to get them in to the schools. However, that's their problem, thankfully. Mine was just getting past them and on my way.
Walked on to the place where I found the Flag Irises the other day and gave the new lens a good try out. Results weren't earth shattering, mainly because of the lack of directional light. I'll give the new lens another test later in the week, hopefully. An abstract looking Iris got PoD.
Dinner tonight was Spaghetti with smoked salmon and lemon. It was deemed to be OK, but nothing exceptional.
Spoke to JIC later in the evening and heard how his studying was going and also his phased return to work. We are so lucky and thankful that we don't have to go back to work. I realise it will be difficult for school pupils, but for workers too it will be a hard slog for the first few weeks, returning to try to pick up where they left off, especially with summer just round the corner.
Sketch today was a really rough representation of My Favourite Tool. I could have drawn many things for that, but decided to err on the side of safety and chose my Oly E-M1 camera. Sketch is on Instagram.
No real plans for tomorrow. May go out somewhere.