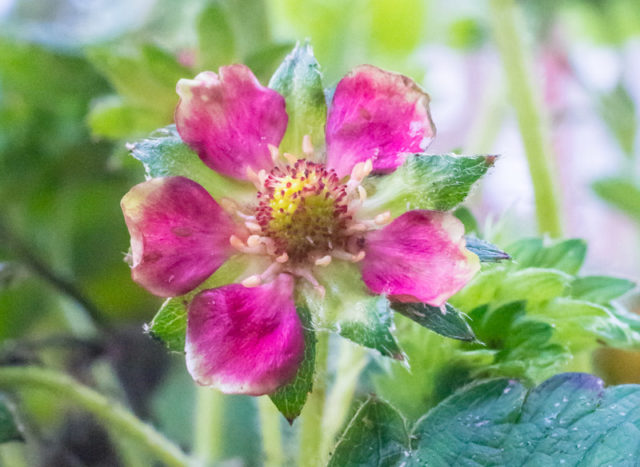 This is getting boring. Tomorrow we must try to break out of Cumbersheugh!
The furthest we got today was the mighty Tesco. We needed milk and some veg for tonight's dinner (Aloo Saag). We got it, we came back, we had the last of Scamp's soup for lunch and then Scamp went out gardening.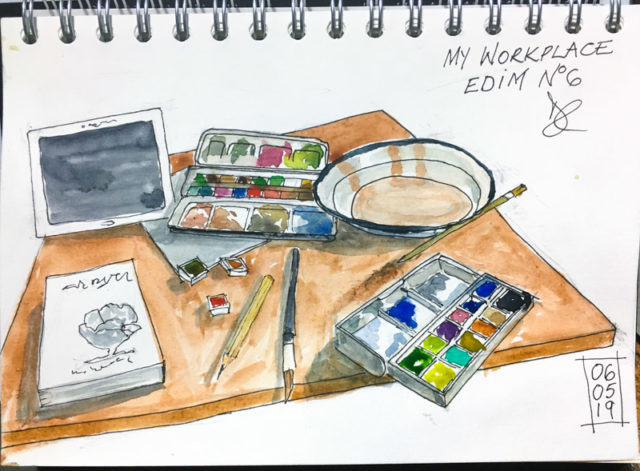 I went upstairs to tackle today's challenge which was the unlikely subject for me "Your daily work/office". That's a tricky one for someone who's retired. I don't actually have a "work" and certainly not an "office". I thought of all the places I have worked, some of which could be called "offices", but none of them impinge on my life now. Upstairs in the back bedroom is the closest I'm going to get to an office and I suppose you could call my daily photograph or my daily sketch this month a "daily work". So that was that. It was either a sketch of a camera or of the bedroom. I settled on drawing what was in front of me, the drawing board with a couple of paintboxes an assortment of brushes and a pencil, plus odd bits and pieces. I drew it in pencil first and then outlined the result in pen, before laying down some watercolour washes. It looks ok and some people even "liked" it on FB. I'm surprised and delighted in equal measure. Tomorrows topic is "Something that makes you sad". Hmm, that could be work itself!
I didn't do much gardening today, I generally leave the 'getting your hands dirty' stuff to Scamp. She's better at it than me. However I did put up a frame for her sweet peas at the front of the house, then she put up a bit of netting on the fence at the back for a second batch. Now she's talking about putting netting on to the rowan tree and training yet more sweet peas up that. We'll be overrun soon with pretty perfumed flowers. Later when I was bringing some of our most recent sowings from the greenhouse so they could get the benefit of the rain, because it was a rainy-shiny kind of day, I noticed that my leek seeds are sprouting. That's good to know. Hopefully they will provide the basis for some soup one day. The leeks I planted last year seem to have survived the winter and are beginning to show signs of fattening up.
Today's PoD was taken in the garden too. It's a strawberry plant has been sitting on high in a hanging basket all winter and now it's starting to flower again. It really deserves to be replanted and given some decent compost. Perhaps tomorrow.
Tomorrow, apart from the proposed bit of gardening we have no plans, but we really need to get away from the house, somewhere scenic perhaps.