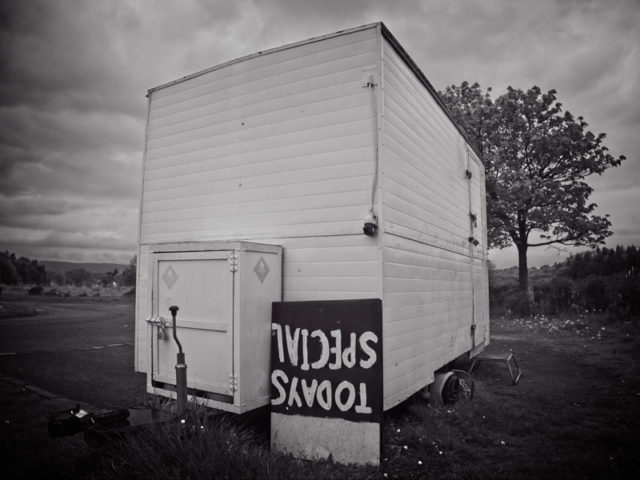 Today we went for a drive and got a table.
It wasn't the brightest of days, in fact it was a bit overcast with a hint of rain in the wind. I'd thought of going to Bowling near Dumbarton, but I reckoned I wouldn't get very interesting photos with the lack of light in the morning, so we went to Ikea instead. I wanted to get some of the drawer dividers we'd been using for the Marie Kondo stuff and Scamp just wanted a wander around looking at nothing in particular and everything in general. We ended up buying a garden table for a knock down price, a wooden one that looks as if it will be useful, not only for eating off, but also as a potting bench. Had lunch in Ikea and got a quid or two off our meal with the Family Card. A pain in the backside to fill in the detailed application for and they must have been hewing the card from a solid block of plastic, judging by the time it took to come. However it saved us money, so we shouldn't complain.  We both had the fish 'n' chips.  It was supposed to be cod and I'd guess it swam in the same sea as the cod, but that's as close as it got to being that fish.  Chips were good.
The rain got heavier after we left Glasgow and it looked as if it was settling in to be another dull day. I moped upstairs for a while trying to find something to draw to fulfil the brief of "Something that makes you sad". I though of an empty bottle of beer which usually makes me sad, but I just couldn't get it to look like I wanted it to. Decided that the rain had lessened to a drizzle and went for a walk in St Mo's as much for a break as for any inspiration. However, on my way back, I passed the burger van that's parked over there and saw the sign for the umpteenth time. This time I took a couple of shots. The one you see here is the best one, I think. Processed in ON1 2019 and then just a little bit of levels in Lightroom, it became PoD.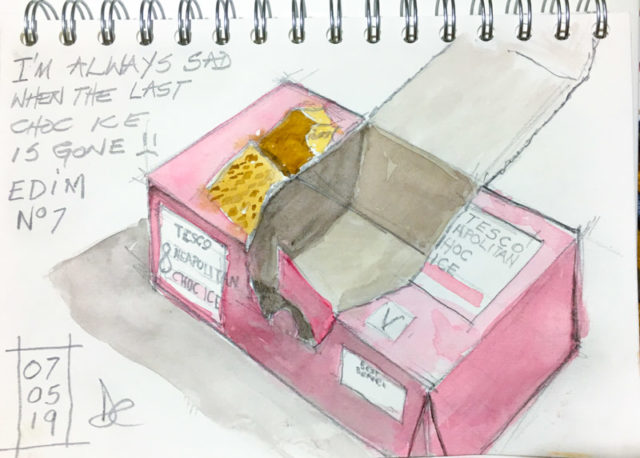 With the photo done and posted, Scamp and I shared the last two choc ices and that's when I saw my sketch. To quote from the title: "I'm always sad when the last choc ice is gone!" I posted it in FB and then had a look at what everyone else had done and it was "Saving the planet", "Protect the Bees", fluffy bunnies, kittens and babies with tears in their eyes. It seems that I'm the only one with a sense of humour.
Tomorrow we're hoping to go dancing in the afternoon and in the evening too.