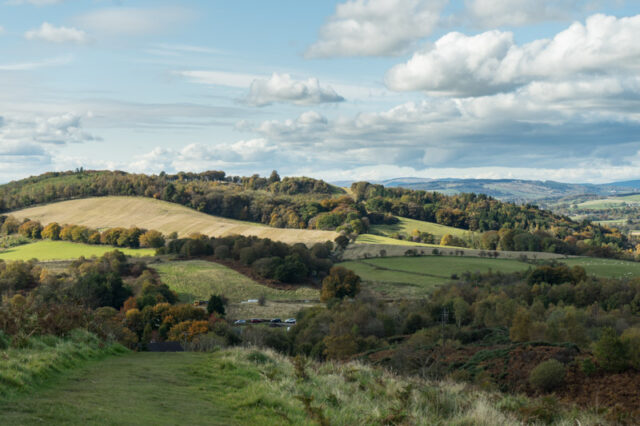 Or maybe more of an 'out and up' day.
A more gentle start though. Spoke to Hazy who seemed impressed with yesterday's Blog warning. First warning she's had that there's something she might not want to see. It's usually JIC that gets the 'Technospeak' fake HTML meta text. We both enjoyed the wee chat this morning Hazy.
Today Scamp suggested we tackle Croy Hill. Not a great ascent, nor a very long one, but steep enough in places to challenge us 'auld yins'. Stopped quite a few times to admire the view and the way the light was changing as it swept across the land. Good to see the colours in the trees turning golden brown and the low autumn light picking out the textures. While we were up at the site of the Roman fort, we could see the heavy grey clouds sliding in from the east and decided it would be a good move to make our way back down to the car. We still took our time, enjoying the scenery as we walk down.
By the time we got back to the car the clouds had indeed rolled in and banished the blue sky. As an introduction to walking in the hills (not hillwalking) it was fine. Not too demanding and the ascent and descent took about an hour and a half. It gave us the incentive to try another hill soon. It looks like we may try the new path up Bar Hill, which has a more complete looking ground plan of a Roman fort. I climbed it many years ago from the other, steeper side. The path from the Croy side looks a bit easier, but we'll see.
Not much else of interest today. I raked the leaves from the back garden (these trees are SO untidy). Scamp made the dinner which was a Cauliflower and Potato Gratin. All her own design and it worked really well. Another to add to the recipe list.
PoD was a view from near the top of Croy Hill looking over to Bar Hill, probably our next target. It's the only Bar in Central Scotland that's open this month!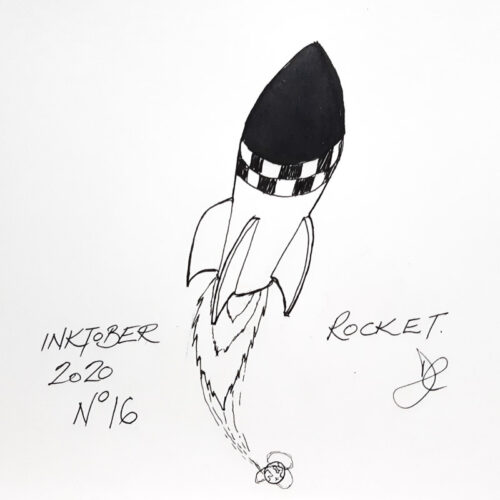 Today's prompt was 'Rocket'.  I could have drawn a spotty wee ned in a baseball cap shouting "Ha! Ya rocket!!", but that would have required too much translation for anyone outside the Central Belt of Scotland.  For those outside that region, it means "Oh you stupid boy".  There is a female form of 'rocket', but it would … require a Parental Advisory label. For those reasons, I chose to draw a cartoon rocket instead in the style of Hergé.  It's so much easier to draw nouns than verbs or adjectives or transferred epithets (no, I don't know what they are either). So my answer is a simple drawing for a simple request.
Tomorrow we might just be able to go for a walk again if our legs haven't seized up with today's ascent!