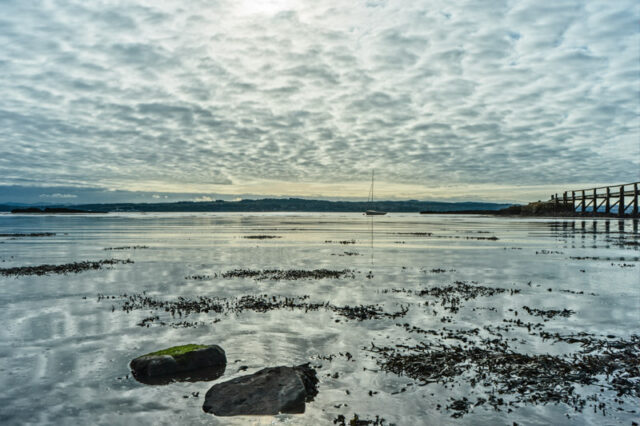 Today was a bit busy in places, so we had to take advantage of a couple of hours free time.
<Hazy-Warning>
Out just after 10am and pointed Blue to Fife. Oh dear, I think that may be outside "Our Area", but there were no roadblocks. Not checking of licences plates. No NPR cameras flashing at us as we passed. All was well and arrived in Culross to a fairly calm Firth with the tide well out. We walked along the side of the old disused railway as far as Preston Island which isn't an island any more since the Coal Board dumped the ash from Longannet power station there and reclaimed a fair acreage of land. Unfortunately Longannet is now in the stage of being decommissioned, so there will be no more landfilling at Preston Island. It's lagoons will remain landlocked. It was a beautiful morning and we both thoroughly enjoyed the walk. By the time we got back to Culross the tide was almost fully in and that's where I got today's PoD. A view across the firth to Bo'ness. We passed a couple of folk busking beside the path on the way to the car. Woman playing fiddle and man playing guitar and singing. Older than the usual buskers, just a bit younger than us in fact. We had no money and they didn't have a card machine, so we thanked them for the music and told them we'd enjoyed it. Maybe next time we're out we'll take some ready cash.
</Hazy-Warning>
I was expecting a delivery from DPD who always give you a one hour time slot for deliveries. I was buying a spare battery and charger for the Sony camera. It arrived dead on time as Scamp was raking the leaves from the front grass an giving it a good scratch too, to clear the moss. After that I went out for a walk with the Oly, just in case it felt a bit lonely sitting in the bag and not getting out to play. Got a few shots, but nothing to match the morning ones. While I was out, Scamp was off getting her flu jag. When I got back from the walk she was back home and none the worse for her ordeal. With the sun still shining I gave the car its first shampoo. It wasn't as dirty as I thought, but it doesn't do to let the bird crap sit on the paintwork. It's quite acid and can cut through the gloss coat on the paint.
Job done, I started to make dinner and right in the middle of that, the Tesco order arrived. I told you it was a day that was busy in places. Now you know what I mean.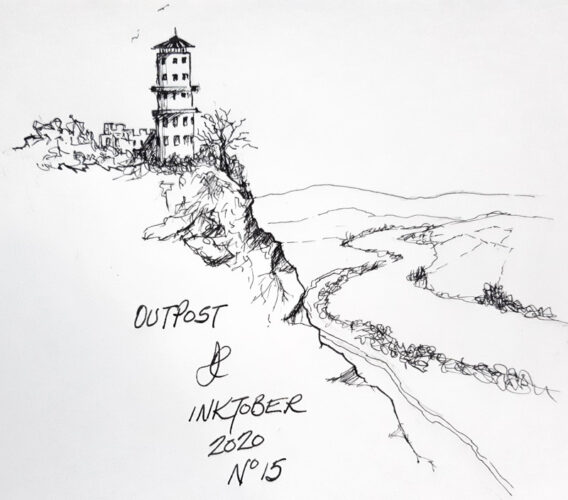 Today's sketch was Outpost, which I presume is intended to be linked to the film of the same name. I don't do films, so had to rely on Wikipedia for the information. I ignored it anyway and drew a sketch based on the folly on Kinnoull Hill just outside Perth.
Tomorrow we may go out for a walk if the weather is being sensible.