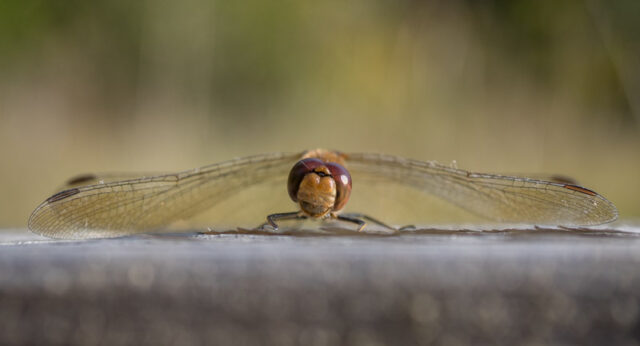 We went for a walk.
Packed a bag with the new camera and an old camera, although they were both manufactured around the same time. With the bag packed we set off on our travels. It was the reverse of our normal route. Heading out to Broadwood Loch and back round to the new shops. 'New' is relative as they are only about a year old. Anyway, we went in to get crème fraîche and came out with a full bag of stuff, most of which we'll use over the next few days. Couldn't believe that tomorrow its to be wall to wall rain and today was blissful sunshine with only a few little clouds to create some interest in an otherwise blue sky.
Back home after a second cup of coffee today, I grabbed both cameras again and went in search of beasties. Found a whole line of them ranged along the edge of the boardwalk. All except one were common darter males. Possibly just finished work and waiting for the pubs to open. The odd one out was a black darter and he was certainly in the mood for darting. No quick pint for him, he was off attending to business, or so it seemed. That's where the PoD came from. I was quite pleased with it. It's had loads of views on Flickr, possibly from disappointed viewers sucked in by the title: Full Frontal! Oh yes, and Schoolgirl is still trapping the unwary.
Took a few moody shots of flowers and cow parsley seed heads with the A7 and they looked impressive. I'm sure some folk on Flickr will love the 'bokeh' that it produces. Just looks like out of focus blobs to me. Overall, I'm settling down to it. It's still not a definite keeper, but I'm quietly impressed.
Dinner tonight was Cod with Prawns and Fennel. It's rapidly becoming a family favourite.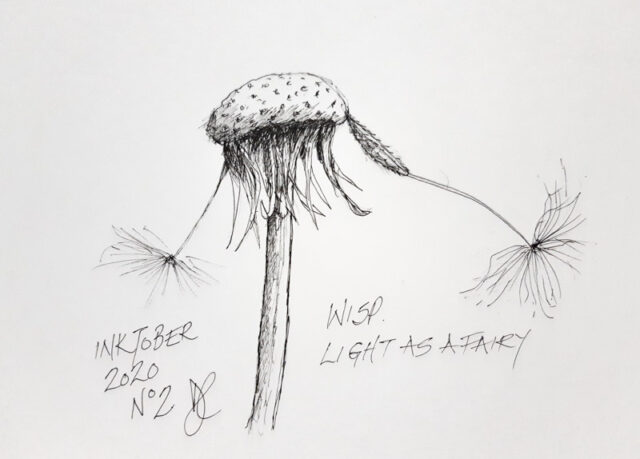 Today's topic for Inktober was Wisp.  It stumped me for a while, but I chose a couple of dandelion parachutes to become the drawing of  the day.  Not exactly a wisp, but light as a fairy.  Close enough.
That was about it for today. Tomorrow, as I've said, looks like rain, so I don't think we'll be going far.