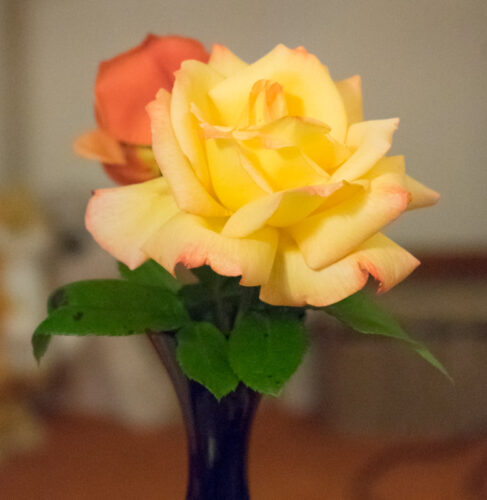 Well, I had high hopes that we'd manage a wee walk early in the day. The weather thought differently.
The rain started about 11am and it hasn't stopped since. To be fair, the weather fairies warned us this would happen, but you live in hope, don't you? Instead I spent the day … doing nothing. Nothing creative was achieved today. I think I sat in front of the computer for most of the day and hardly moved. At 11.15pm my Fitbit records 2,097 steps. That's well below our daily average.  To give myself something to do I made a loaf.  It's ages since I baked and I thought I'd get some practise in so I can criticise the efforts of the numpties on GBBO.  It actually turned out very well.  Impressed!
What I did do today was fit all three of my useable Nikon lenses on the Sony A7, using an adaptor that the kind Amazon man brought me this afternoon. I've used one of these before on the Olys, but it was always with heart in my mouth, hoping that when I pressed the button to release it from the lens, the pin it controlled would actually disengage. Sometimes it did, right away other times it had to be coaxed. As you can imagine, that didn't inspire a lot of confidence. This one seems far better engineered and more solid. What's more it works. Of course you lose all the electronic connections between lens and camera, but I don't mind having to do a bit of manual focusing if it means I get to use my quality Nikon glass again. Unfortunately because of the reduced light levels today I couldn't really test them fully. Hopefully we'll get that done tomorrow.
Dinner tonight was Baked Potatoes. Accompaniments were Tuna Mayo for Scamp and Venison Burgers for me. Both were deemed brighteners on a dull, dreich day.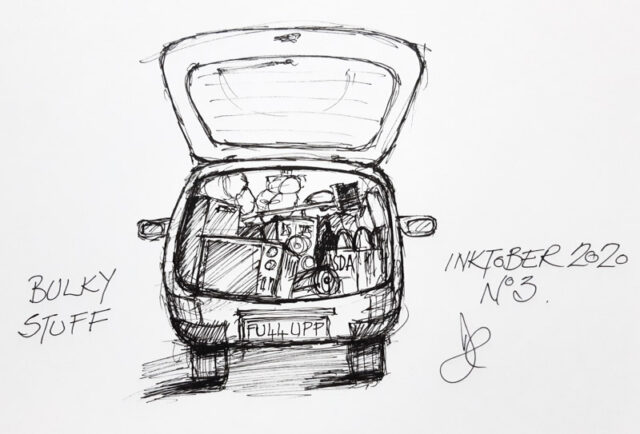 The topic for today on Inktober was 'Bulk' and my drawing for that was a well stuffed car with lots of bulky stuff. Not quite the exact solution the author of the list was asking for, but it was my interpretation.
PoD was one of Scamp's roses, Troika. Beautiful colours when it's in bud, but they reduce in intensity fairly quickly, even outside. It was taken with the kit lens for the Sony A7 in poor lighting tonight. I took it while we were watching The Birdcage on Amazon Fire Stick. Brilliant film, even if Robin Williams wasn't at his manic best. It was far, far better than the film we sat down to watch, Get Duked. Just don't watch it.
Tomorrow we're hoping the rain will stop for a while.