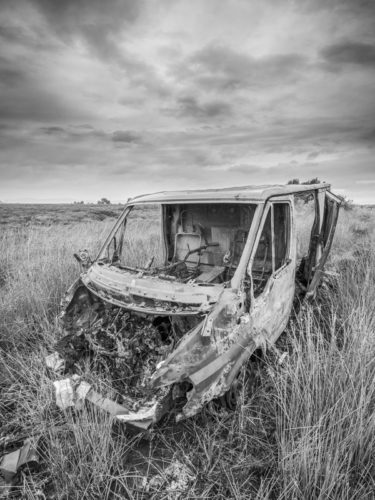 We shouldn't complain, should we.
Another day that dawned fairly bright and fairly dry, but deteriorated gradually all through the morning and then in the afternoon started a steep decline.
In spite of the weather, or maybe because of it, I decided that today wasn't going to be a macro day or a flower day. Every month I make a screensaver of the last month's PoDs and when I previewed the July screensaver it appeared to be totally composed of those beastie and flowery photos. No mono. No landscapes, few cityscapes and no faces. That, I'm sure is what made me want to shoot a landscape (or two) today.
With that in mind, I drove up to Fannyside, intending to get some landscape shots in the dull weather, then the rain came on, but that might just add a bit of moodiness to the images, I thought. That's when I saw the burned out van. Hmm. I'd fitted a wide angle lens to the Nikon and that van just screamed out for wide angle, moody sky and monochrome. Unfortunately, the sky was anything but moody. It was milk bottle white behind the van. Turn through 90º and the sky was a bit more interesting, so concentrate on getting a good shot of the van and then composite the sky in later. Not PS this time, but ON1. I'd seen it done the other night on a YouTube video. It wasn't quite as easy as it appeared (is it ever?), but I managed it without the aid of Photoshop. Quite liked the finished effect.
By the time I was coming home the rain was ramping up, or thumping down if you prefer it. I don't think that would have added anything to the photo. I liked it as it was. Nice to see some mono and landscape squirting out of Lightroom for a change.
I danced salsa for two hours tonight and enjoyed most of it. Especially because my knee wasn't hurting as bad as last week. I think it may be on the mend, but the big test will be tomorrow. Horrendous traffic going in 24 minutes allegedly between Junction 13 and Charing Cross (normally 6 minutes). Although there was an accident after Junction 16, most of the holdup seemed to be folk travelling in to Glasgow to see the opening of the European Championships. I hope they weren't expecting something like the Olympic Games. This is Glasgow. Two bottles of fizzy water and half a dozen sparklers, that's all you'll get. Anyway, we managed to slip into the moving part of the queue on the motorway without causing any problems and made Charing Cross in record time.
Tomorrow we're dancing ballroom and jive or jive and ballroom, who knows at 1pm. Unless we get a text before then to ask if he can change it to 5.30am on Saturday. Don't laugh, it's well within the bounds of possibility.