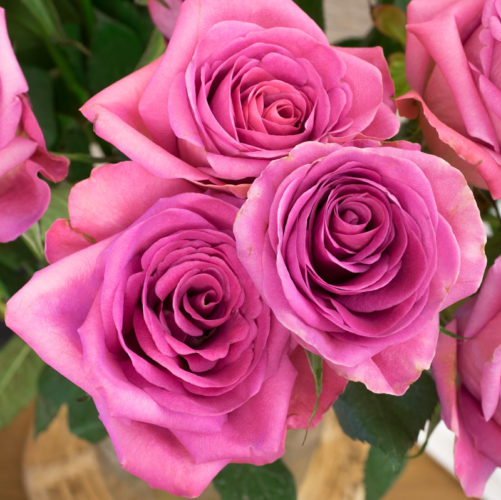 Isobel was the visiting garden guru today.
Drove up to see the nurse about my recent blood test. She didn't seem concerned about my sugar level, in fact she seemed pleased that it had come down and assured me that if I stayed on my regime it would continue to drop. I asked her about a leak I have in my eye after I bumped it with a pen on Tuesday. Yes, really. Clumsy I know. She told me to go to an optician and get it checked. Left with a smile on my face and a sample bottle in my pocket to be filled and returned to the surgery tomorrow.
Back home, Scamp was getting ready to go and get Isobel so she could assess the state of the garden. Basically Scamp's been overcrowding the pots with too many plants. That and everything needs pruning and shaping. This is worse than Shannon's styling classes! We had Broccoli soup for lunch and then Scamp showed her some of her holiday photos and that kept them amused for most of the afternoon. All the time the rain had been pelting down.
When Scamp took Isobel back home, I did a bit of armchair flying, then when the driver returned I drove up to the Town Centre to speak to an optician. In Specsavers the manager was very helpful and didn't laugh too much when I told her what I'd done. The optician had a look and said I'd damaged a bit of the white of my eye, but that it was healing well. She gave me some ointment to put on it at night. I haven't tried it yet as it seems to make your vision blur, but I'll do it as soon as I get the blog written. I was relieved that it wasn't anything worse and pleased that I'd got it seen to (pun not entirely intended).
By the time I was coming home, the automatic headlights came on, so there would be no outdoors photos today. In fact the only thing I could think of photographing was three of the roses that Clive had sent us. With a slow shutter speed to achieve a low ISO, they looked good. I know you really are interested in this JIC, that's why I'm telling you 😉!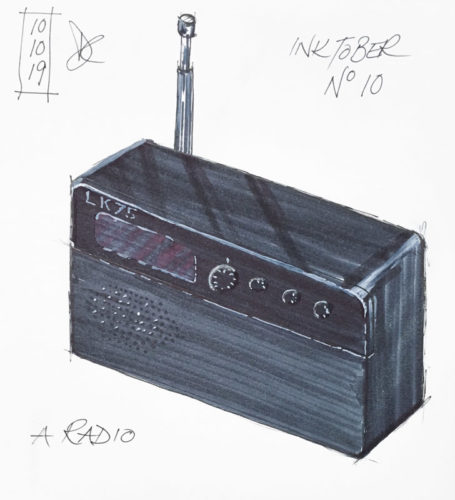 Today's topic on my Inktober list was "A Radio. This is Scamp's DAB digital radio. It's the only discrete radio in the house, that is one that's not built into something else. It's so rarely that we use a radio these days. Scamp listens to Money Box on Radio 4 and I rarely listen to anything at all. Radios are and endangered species these days. This one was drawn in pen, then rendered with a water colour marker and a white pen. I also used lots and lots of Post It notes as masks to keep the edges neat. I thought a radio would be an easy topic. It wasn't. Tomorrow the topic is "A Butterfly". Not many of them around in October.
Not sure what we're doing tomorrow. It looks like being wet again.