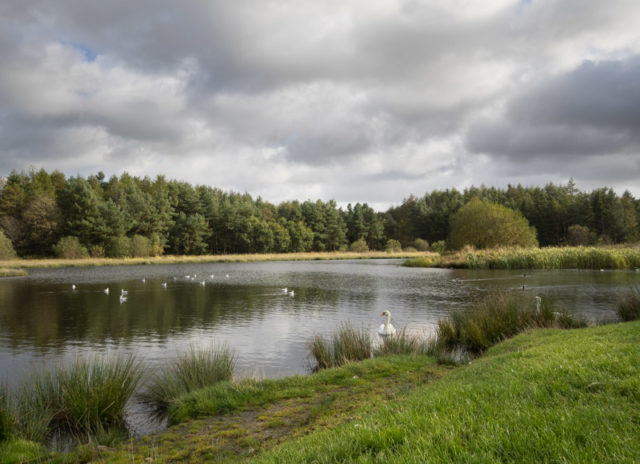 Today's topic from my list was "Butterfly". In October, in Scotland? Really?
Then I remembered Deone's Seat. It's to remember Deone MacRae who died, aged 15, from cancer. The story is much longer. Google her name if you're interested. It's not a memorial. First and foremost it's a seat. It's been powder coated a cheerful bright pink and it sits beside the pond at St Maurices park. The seat is cut and welded from 1/4″ sheet steel and is a fitting tribute. I went out this morning to sketch it and then added some colour later. It was my interpretation of the prompt.
Came back and Scamp was getting herself ready for a trip in to Glasgow, solo. That suited me. I'd a bit of virus killing to do on the iMac. Probably only the second time I've had to resort to a virus killer. I'd tried Bitdefender last night, but it's a bit of a sledgehammer to crack a nut. It took 25 minutes last night and it still was only about 75% through on a short scan. Nah, I needed something quicker. I'd found the offending article, it was an extension in Safari, Apple's worthless browser. Worthless or not it was harbouring a piece of dodgy software that needed excising. I'd read that Malwarebites was good, so I downloaded that and it quickly found, not one, but two pieces of malware and deleted them, or to be precise, quarantined them. I don't like quarantine, I prefer deletion. So that's what I did. Malwarebites it's the way to go.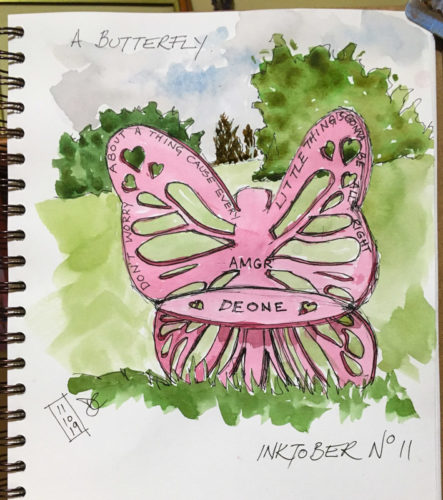 By this time Scamp was on the bus to Glasgow, so I had time to add some colour to today's sketch. Plenty of time, so for once, I let one colour dry before adding the next. I was pleased with the result. Yes I know it's not totally symmetrical and there are some rogue lines, but that's what happens when you've half an eye on the rain clouds, half an eye on the swan that's sidling up to you looking for an early lunch and half an eye on nosy folk asking "Are you drawing?" Luckily the only person who passed was a bloke jogging around the pond and he just nodded and gave me a Scottish "Aye" which can mean "Good Morning", "Looks like rain" or just "Hi". It never means "What are you doing here?" It's just a nod and an "Aye." I don't think they do that anywhere else in the world.
With the sketch and the painting done, I did a bit of flying from Fuerteventura to Lanzarote. Not far, but still taxing until you work out how to do the ILS approach under autopilot. I know this is gibberish, but it's interesting gibberish to me. Gave up after the third attempt and made my lunch. Piece on brie, apple and honey. Totally heavenly. Home grown apples too, James Grieve.
After lunch I walked down to M&S to get chicken for tonight's dinner and also a box of their delicious Turkish Delights, bread and a couple of pastries for after dinner. Got a text to say that it was back to business, Scamp had returned.
PoD was a photo of St Mo's pond that I took after sketching Deone's seat. Looks very pleasant once you've spotted out the Bucky bottles and the crisp wrappers. Swans seem to like it anyway.
Tomorrow we may go to Embra. It depends on the weather, but I expect I'll be driving part of the way, which means I won't be able to partake of tomorrows prompt: A Fruity Cocktail.