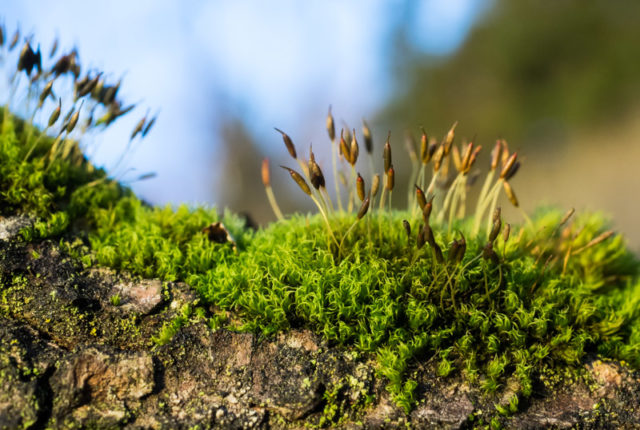 The sky was clearing when we woke, but it took a while for it to clear completely.
Scamp was feeling a lot better today. Good enough to go for the messages. Rather than face the crowds and the traffic jams, we chose to shop locally in Tesco. I think we nearly emptied the place, judging by the amount of stuff in the trolley we wheeled to Scamp's car. She had decided to give the Juke the day off because it had worked hard these last few weeks.
After lunch I took the 'old' E-M1 out for a spin round St Mo's and got some lovely light because the clouds had all cleared away and the low sun was warming everything up. Not actual temperature 'warming', but colour temperature warming. The Mired value, but you don't need, or want to know that, do you? Let's just say it was lovely light during what's know to photogs as the Golden Hour. Today it was macros again and my favourite and therefore the PoD was one of some moss on the limb of a tree.
By the time I was heading home, Scamp was getting ready for a Gems Christmas/New Year party at Carol's. A good name to have for this time of year. I wasn't invited, of course as this was a girls only night, but I was the nominated driver for Scamp and Margie. I was even getting the privilege of driving Scamp's car, probably to extend the Juke's holiday. Dropped the ladies off and headed home to do battle with the MacBook Pro again.
This time I was ready. I'd read the script and the the different pieces of software. The first attempt didn't work. Apparently the secret is to change the system date of the MBP to something about two years ago and try again. I did, and it worked. Panicked after that because although the screen looked right, I had no mouse, no keyboard and no way of progressing with the install. Back to the 'big' computer and read the 'Problems' section. It was a know problem with a solution. I did a reboot and edited one small tick box before I lost control and voila! MacOS Sierra running on a 2009 MBP. You PC owners may be saying "So?", but this is a big deal. Apple control what can and can't be installed on their hardware, but one clever bloke has stymied that. Well done to him. Tomorrow I'll populate it.
Got the message just about 11pm that a taxi was required. Checked the temperature (actual temperature, not Mired!) and it was -1ºc. Had to scrape Scamp's car, inside and out!!
When we got back, Scamp was feeling sick. I suspected self-inflicted alcohol induced poisoning, but she said that wasn't the case. She did look a bit under the weather and went to bed just before midnight. Hope she feels better tomorrow.
If Scamp is feeling better I may go in to Glasgow tomorrow to source some ink for the printer, or then again, I may not. It's that certain.