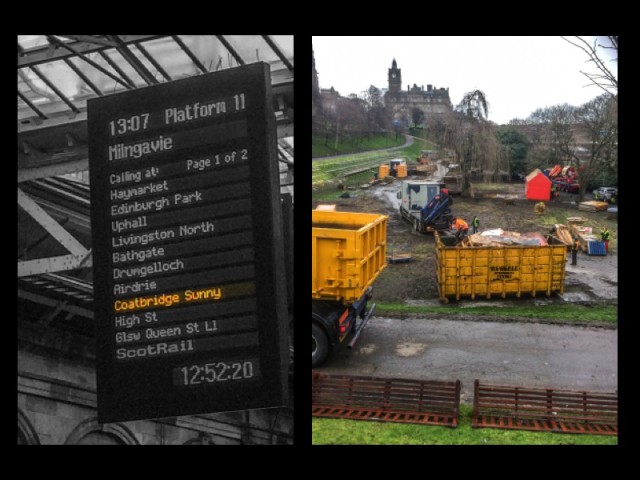 No procrastination today. Up, showered, grabbed my camera bag and drove to the station. Got my ticket and then realised I'd left the camera bag in the car, 200m away in the carpark. I didn't have time to go back to get it, so carried on regardless. I did have my camera with me, in an emergency it would do the job. I was heading for the Arthur Melville exhibition in Edinburgh (AKA Embra). The exhibition was very impressive, such enormous watercolours. Some of the paintings had really subtle colours and others, full of luscious, deep, rich colours. I think what impressed me most was the lack of pencil outlines in the paintings. As well as the watercolours, the almost abstract oils were impressive, but it was the watercolours that won the day. While I was there, I visited the Turner Watercolour exhibition. It's a show that goes on every January in Embra. Well worth going to both these shows.
The Princes Street gardens were full of workers taking down the Christmas attractions. With the amount of water that has poured from the skies recently being churned up by lorries, cranes and low-loaders it's hard to believe that the grass will grow again, but I'm sure it will.
Spotted an interesting sign in Waverley Station. What's so special about Coatbridge that means it gets its own weather forecast?
Icy start to the day and some bright sunshine, but then later the Tupperware box returned. Snow forecast for tomorrow.