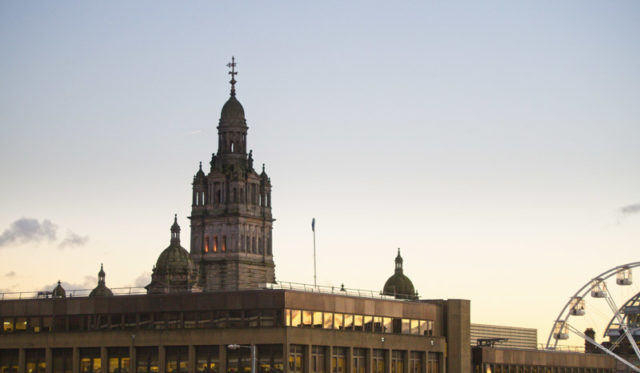 Today, being Scamp's Gems Christmas party, I had already made plans to avoid it.
The day began around 8.30 when worries started demolishing next door's bathroom. By the noise, I thought there was a whole squad of them with sledgehammers and maybe a small JCB, but there were only two and they must have been working on piecework by the look of things. Toilet, wash hand basin and loads of pipe work littered the garden. I'd say it was the noise that got us up, but we too had work to do. The preparations for the party wouldn't fix themselves.
Most of the work was down to Scamp, but I did help with the tidying up, even to the extent of Dysonning the living room and the downstairs hall. Between us we increased the size of the table by inserting an additional leaf. I carried the iMac upstairs and cleared away more of the clutter. Finally, when Scamp went to collect Margie, I made myself scarce and drove in to Glasgow.
My first stop was Tiso to see what they had in the way of waterproof boots. My two or three year old Clarks Goretex boots simply aren't doing the job any more. Last week I returned home with two wet feet after a less than demanding walk across some boggy fields. I think I need to put the old boots out to pasture and buy a new pair of good walking boots. In Tiso I spoke to a really helpful Latvian sales girl (I couldn't place her accent, so I had to ask her) who explained the difference between fabric boots and leather ones. Yes, I know it's obvious, but she explained the science part. That the water in boggy areas is acid and it rots the fabric, but more importantly the thread that holds the boots together. Leather boots have less parts, so less thread. It may be nonsense, but it sounded logical. Once I've looked around and seen what's on offer elsewhere I'll start trying some on.
Next I wandered round Glasgow's Winter Wonderland. Well, it was Winter and I was Wondering where all these people were going. The town was mobbed and it was a Monday and just at the start of December too. Gave up eventually and drove home, but not before I got today's PoD which is almost a panorama of the Glasgow skyline.
Salsa tonight was interesting, but the 7.30 class is getting smaller, much smaller. I fear for its survival. We danced one new one without a name and one called Pan Cortado which sounds like a mixture of a dessert and a coffee drink. Not sure if he's got it quite right.
Tomorrow we are waiting for the 'Rat Man' to come, although with all the banging and drilling with next door's new bathroom, I think the rodent will have packed its bags and gone somewhere quiet.