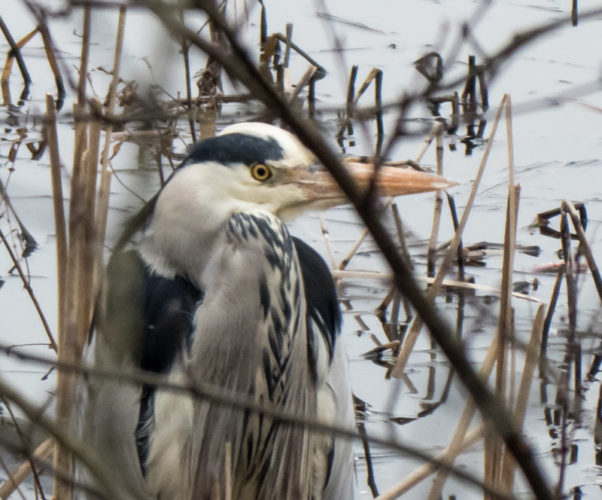 It was Monday and we all know how restricting that is. Today I had a plan.
Didn't get much done this morning, but after lunch I locked myself in my room with a bunch of bananas, a sketch book and pencil and a paint box. I reckoned that was the only way I was going to get a sketch done today. It took a long while and a few wasted sheets before I was settled on, but not altogether happy with, a little painting. It could have been a lot better, but it was complete and it was in on time. All the time I was earwigging the Gems practise. We all have to make sacrifices for our art!
With a painting in the bag, I went looking for a PoD. The light was dying as I walked over to St Mo's, but I got a shot of Mr Grey hiding in the shallows beneath the trees. If it was to work, I had to have a close-up of his eye because he was well hidden in the bushes and only his eye would give me the shot I wanted. I got the shot and he flew off, fed up, no doubt with my clumsy stalking technique.
Back home, I had about an hour before I made the dinner. Got the photos downloaded, then the sketch photographed and transferred too. Worked on both photos and uploaded them to FB, Instagram and Flickr. Then it was time for dinner. Spaghetti with roast peppers in tomato sauce. Then we drove in to Glasgow with CITRAC displaying a yellow warning for snow and ice during the night and the early morning hours. Hopefully that won't bother us.
Salsa with the first class (Advanced 1) wasn't all that demanding, but the new move in the second class (Advanced 5) was a test, not only of our abilities, but also of Jamie Gal's memory. It may or may not be called 'Corfu'. Jamie said he'd post the move on FB, but so far nothing has appeared. It was actually quite an interesting move. We may try it out ourselves tomorrow just to see if we can work out between us what it was all about.
For once I got parked easily back at the house. That doesn't happen often.
I sacrificed the gym and swim for a chance to get a sketch done today. Tomorrow I intend to pay back. Gym and Swim then sketch with photography taking a back seat. That's the plan any way!