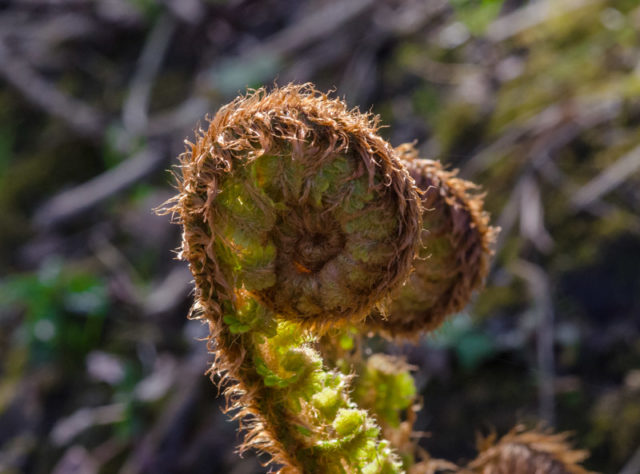 We had expected a cold, cloudy day, but we got quite a lot of sunshine.
Scamp managed to grab a delivery slot for Saturday 18th from Tesco. Isn't it strange that something so mundane as ordering a grocery delivery can bring a smile to our faces? It's a measure of how our lives have changed. Anyway, while she set up the Saturday delivery, I amended our Tuesday delivery, adding a few things. Mainly because I'd never done that before. It's also strange that something that's being done by all the supermarkets is slightly different in all of them.
Both tasks completed, we went for a walk in St Mo's. I took the Nikon and the little Oly 5 which doesn't get out much now. I know how it feels. The Nikon produced some brilliant macro shots of furry looking ferns, a bright green blob (also known as a moss fruiting body) an a nesting coot. The Oly 5 with the fish-eye lens attached captured a wide angle view of St Mo's. The PoD went to the furry fern crozier. The remainder can be seen on Flickr. The park wasn't too busy today, just a few weans on bikes and a couple of adults taking their daily exercise. Scamp took my photo on the bench I'd earmarked for last Wednesday's shot, but I'll keep it on my phone for now, because I look guttered. It was meant to show off the tee shirt I got from Canute, but you can hardly see it. Pity, because I quite like it.
Scamp spent a half hour or so talking to Shona on the phone. I can't imagine how that girl copes with Ben in a flat on lockdown. Anyone who has kids at this time must be absolutely round the twist trying to find something, anything, for them to do while they're not at school.
We both spent half an hour speaking to JIC later and marvelled at the amount of gardening they're getting done in the warm weather they get.  Got a fair bit of slagging from him for not being able to get a delivery from Ocado.  OK JIC, I walked into that one!
One idea I've had started from a picture I saw on Flickr. It's an Instagram challenge to complete a drawing a day for the lockdown period. I'm a bit late coming to it, but it sound feasible. Starting it tomorrow. Small sketch posted from my phone.
That's it for today. A bright, sunny, spring day in lockdown. Tomorrow will probably feel more like winter if the weather fairies are to be believed.