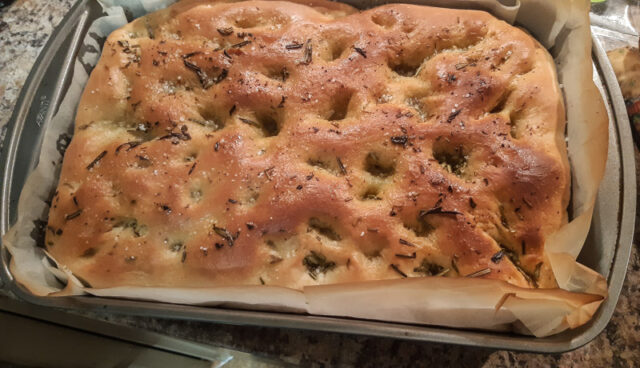 Not just any old bread. This was handmade focaccia.
JIC and Sim gave me the bread making kit for Christmas. Six monthly bread related tasks to challenge me. Today I tackled the first one, Focaccia. The last time I made focaccia, I used the Chef mixer to do the heavy work and just added the ingredients. Today I did it all by hand. Hand kneading the 600g of bread flour with yeast, salt, 200ml of water and 60ml of olive oil in a bowl was hard going, but there was more muscle work to come. There was the main kneading on a work surface and adding in the additional 125ml of water. That was the bit I was dreading, because the dough gets really sloppy and difficult to handle then. However we worked at it together, the dough and me and we got it done with all the water absorbed and the dough silky smooth. Set it to rest and prove while Scamp and I went for a walk with our new best friends, the Yak Trax.
I don't think she believed me when I told her how easy it was to walk on ice wearing these old fashioned, but so clever overshoes. It was a dawdle. I took some photos as we did two circuits of St Mo's pond. We watched one wee girl take a tumble on the ice and felt just a bit sorry for her as we crunched past on metal feet. Lots of very photogenic frost pictures to be had, but not a lot else. No ducks and no swans today. I think they must have got an early flight to Malaga or Tenerife. Or at least somewhere warmer than St Mo's pond.
When we came home the dough had risen and was ready for the next phase. I plonked it into a baking tray, hoping against hope that it would expand to fill it properly. It looked a bit deflated there. It went into the pre-warmed proving oven (grill) for half an hour or so while we had lunch. After lunch there was the fluffed up dough waiting for its next stage. This involved poking our fingers (washed!) into the dough to form deep dimples and then pouring 100ml of good extra virgin olive oil onto the dough. Sprinkled it with rosemary and left it for another 15mins in the proving oven to allow the main oven to come up to temperature. Then in it went for 20mins.
It came out looking golden brown and smelling like any good focaccia should. The last stage is to pour and ADDITIONAL 60ml of EVOO over the top then sprinkle with sea salt. We allowed it to cool for the required 10 mins before we got stuck it. It was oily and salty and herby and simply delicious. It got PoD! Thank you JIC and Sim for encouraging me to make this bread and it was the right decision to knead it all by hand.
Tonight we watched half an hour of Mortal Engines before I lost the plot, literally. Was this the same story I read all those years ago? Bits of it were, but it was more special effects than story. We swapped it for Oceans 8 which was silly and funny and just what you need (not knead) for a cold night (-3.5ºc as I write). Good recommendation Hazy.
Tomorrow looks like it may be a cold start with the chance of the beginning of a thaw later. We may go out again.