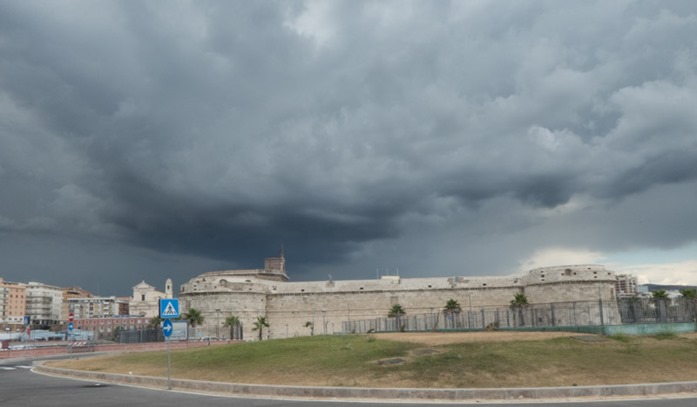 Despite all our plans and research, we decided not to go to Rome today. Instead we'd go round Civitavecchia again.
This was definitely a bus into town day. It's a long walk to the town from where the ship was berthed.
As usual there was an enormous queue when we first looked, but we weren't in a hurry. Went for a swim in the inside/outside pool. Finally decided to go about 11.30. Queue by that time was minimal and we got on the bus which was just arriving. My main task today was to get some watercolour paint. Burnt Umber if you must know. I had a bit left in the pan in the paintbox, but a tube bought in a holiday place always brings reminders of it on dark winter days. I remembered chancing upon a stationers shop that sold art materials the last time we were in the town and I was sure I could find it again. I did eventually find the shop, but they didn't have any watercolour paint. Acrylic and Oils, even some pastels and marker pens, but no watercolour. Well, at least the shop was still there, almost where I remembered it to be.
Scamp was looking for a pizza restaurant where she remembered us having a pizza and using their WiFi the last time we were here. Despite looking in all the places it remained elusive. We had a beer each in a little street cafe instead and that was good enough for me. The place hadn't changed much, but we did find a street we hadn't been on before and while we investigated it, I noticed the clouds were drifting in. Scamp said she thought she'd hear a clap of distant thunder too. Not good. As we walked down the street, I came across an artist's shop! It stocked W&N paints too, but it was closed, probably for lunch. It didn't matter, those clouds were definitely getting blacker and closer and the thunder was coming closer too. It was time to go back on the ship. If I got a chance I'd come back and get the paint. If not, then maybe tomorrow.
Just got the bus back to the ship and were inside when the rain came on, and it stayed on all afternoon. Spent the rest of the day in the inside/outside pool swimming and soaking in the hot tubs. I didn't get back in to town for that paint, although the rain disappeared just before we left the port.
Dinner was in the sit down restaurant. We had two young(ish) boys at our table. About 18/19 years old. Scamp and I reckoned they 'were an item'. It certainly seemed like it, but they were good company and didn't seem at all fazed by talking to all these 'oldies.'
A glass of beer and a G&T sent us off to bed.
Tomorrow it's Alghero in Sardinia.
Memories of Civitavecchia were the thunderstorm and the new bus parking area next to the castle and the water feature that's under construction there. Impressive. We didn't even have time for a walk along the prom!