After a lazy start, I went for coffee with Val and Fred. The usual subjects: Art, Politics and Life in the '70s. Just three auld guys.
After we split up to go our separate ways, I went looking for a PoD. Tried along the Luggie but nothing worth while sprang to mind. Drove round for a while and eventually gave up and designated the yellow flowers as the PoD.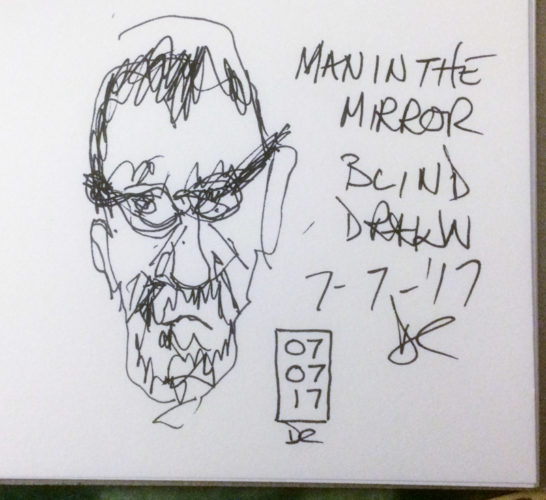 Sketch of the Day was a quick (very quick) SP drawn blind, looking in the mirror. By the very nature of blind drawing, it has to be done quickly, it's gestural and mainly line work with little or no shading. It's a reasonable drawing and it's done.
Out to Crawford and Nancy's at Larkhall tonight and had a good time. Nancy cooked a ham and it was delicious. Must try that some time. Their grandson, Jack was there and I did feel a bit jealous when he called Crawford 'Papa'. It's not often I feel jealous of Crawford, especially now that I'm retired.
Addendum:
Although this is dated Friday 7th July, I must confess that I'm writing it on Sunday the 9th because I'm frantically trying to catch up on my blog posts and Flickr posts after a busy week. Hopefully, I'm up to date now.