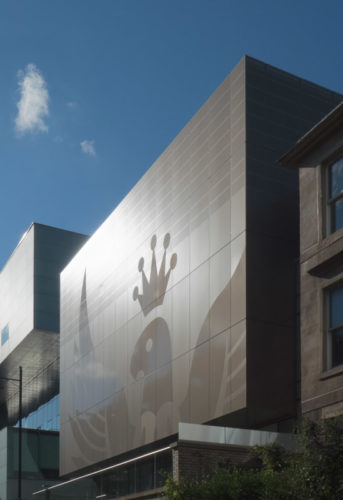 Coffee with Fred to start the day off.
Actually coffee wasn't until midday and the day was well and truly started by then. Topics for discussion today were shed building, the dangers of dodgy wiring and laying paving slabs. All mixed in with our usual critiques of each other's paintings.
After lunch Scamp and I started working on her garden videos which are a great way of recording what was where in the garden in July 2018. Finally got them converted to a reasonable size and a usable format then put them on the website. They will stay there for a week or so.  Here's the link
Dinner was home grown potatoes with cabbage (and bacon for me). Then it was time to go meet an author.
Got in early to Glasgow because I wanted to have a look for a PoD. I found it up at the Art School. I went there to see if I could get some moody shots of the shell of the Mackintosh building which is being partly demolished amid great weeping and wailing from the vociferous luvvies who attended it. Glasgow council has finally made a courageous decision not to throw any more cash than is necessary at this money pit. One fire is a real shame. Two fires is a message. Let it go. Others will disagree, let them. My blog, my opinion. Anyway, I couldn't get a decent shot past or over the safety cordon, so I chose instead to shoot some shots of the new building. I hadn't noticed the stylised bird shape etched on to the surface of the building. I liked the way it shone in the sun and doesn't it look a bit like a phoenix? Not exactly rising from the ashes, but it is a bit of a coincidence. It was an easy PoD. Not so easy to process. That took Lightroom 6 for levels correction of perspective, Photoshop CS3 for adjustments to the sky. (The cloud just wasn't quite in the correct place) and finally ON1 for extra colour tweaking. Ansel Adams was right, you don't take a photo, you make it.
Finally got to the book signing which was on the top floor of Waterstones where there is a bar! Who knew?! Got a seat then became fidgety and started writing … in pencil … on a notebook – old style. This is what I wrote:
I'm sitting at the top floor of Waterstones in Glasgow waiting for Becky Chambers to appear to talk about her new book. I already have the book and also a birthday prezzy for Murdo which I got half price! Two rows in front of me is a girl with nits. She must be because she has a classic 'bowl cut' about an inch clear of her ears. Her hair is shaved into the wood below that line. Its awful looking, It's the same cut as all the boys with nits had in Larky when I was wee, back in the '50s. It probably cost her a fortune.
All around is the twittering noise of the twittering masses of the twenty-something, excitedly discussing what they've just read and how much they are going to enjoy this reading tonight. I must be the oldest here. The old bloke who's stumbled in here thinking it was a political meeting or something. I feel so out of place. I'm not tweeting, I'm not twittering, I'm not excited. I don't even have my phone out. Most folk in the room are on their phones, no doubt tweeting their excitement while verbally twittering. I must be the only one here who's writing with a pencil on a notebook. The Nits Girl is making me itchy.
UPDATE – We've now had our safety talk and know where the nearest exit is. We haven't yet had the life vest demo but the fasten seatbelt light comes on. Then I hear the captain call "Cabin crew, doors to automatic and cross check". We're off. She's here!!!
After all that, the talk was just ok. A few dull questions from the Waterstones bloke and then the usual fanboys (and fangirls) with their hands up, shouting "Me miss!", "Me miss!" Then it was over. Time to go home. Interesting to see Ms Chambers, but not something I'd write home about. Oh! I just did!
Watched "Rip It Up" tonight. A quite forgettable Haun' Knitted Scottish production about how we started the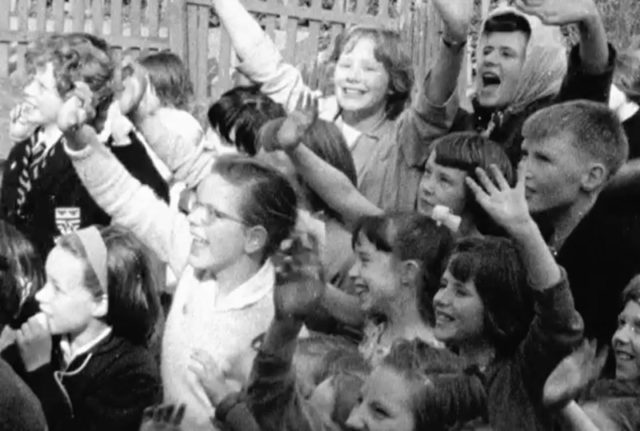 rock scene for the whole world. EXCEPT, when Lulu was the subject, Scamp remembered being in the crowd that was there to watch her in Easterhouse. I'd downloaded the program at the weekend and when I watched it on the computer frame by frame, look what appeared. A star is born, and it isn't Lulu!
Dancin' early tomorrow then maybe manage another run on the bike.