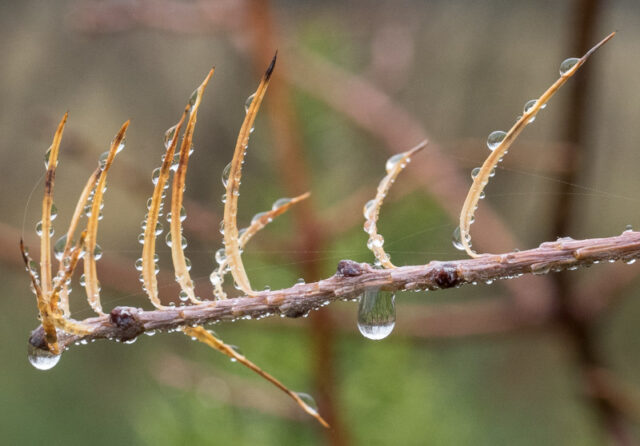 Frost on the cars and the rooftops this morning.
I thought I'd go out and get some photos, but I waited too long to go and by then almost all that photogenic frost had melted to water. Now that the leaves have lost their autumn colours and are beginning to deteriorate, only a few trees still shine. I'd taken the Oly with me is well as the Sony to hopefully get some macro shots and landscapes, but it looked like the Oly was the only one with a chance of capturing any images. I was right. The PoD is a drip hanging from a pine branch, taken with the Oly and its macro lens. I took about four shots with the Sony and none of them were really successful.
After lunch I spent my time culling the photos, rejecting some and accepting others then processing some of those photos that passed the test. That meant I could post them and get on with the next task which was the sketch of the day.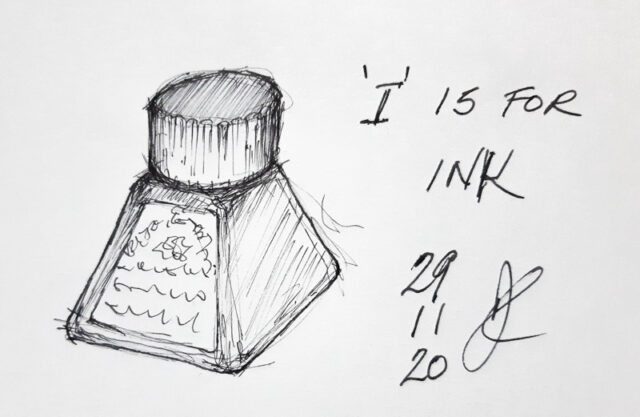 Sticking with the alphabetic scheme for sketches, I'd already decided that today's "I" would be "Ink". W&N ink in this case. I really like their retro little bottles. Unfortunately, I don't like their ink, just the bottles. My go-to ink is Higgins Fountain Pen Ink. It's a true black unlike some of the others I've tried. It's water soluble and that allows me to create a nice dark grey with a waterbrush. Annoyingly it comes in a nondescript plastic bottle. So, ink from Higgins and bottle from W&N. That's what got me to today's sketch.
Spoke to JIC after dinner and sympathised with him having to go the dentist to repair a broken filling and possibly having to pay for it. Double whammy, JIC.
Scariest GP for ages with Grojean crashing into the barrier on the first lap and the car splitting into two in a great ball of fire. Thankfully he walked away from what could have been a very serious crash.
Rain predicted for tomorrow as the clouds roll in and the temperature rises … a bit. That means we might get a walk, but only might.