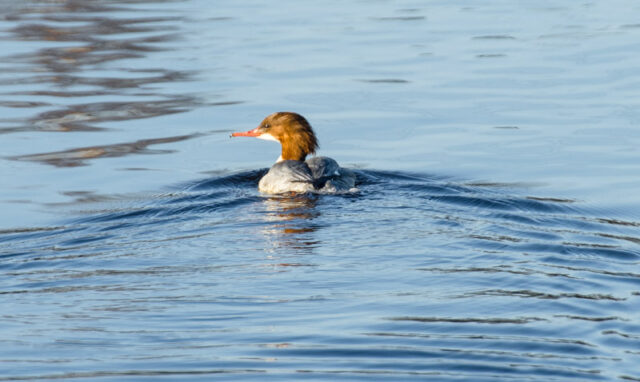 It even rhymes.
A cup of coffee and then we were off out and walking round Broadwood. I was using the Tamron 70-300mm for the first time on the new adapter. Managed to get what turned out to be the PoD in the first fifteen minutes. It's a female Goosander. Got to the far end and decided we'd walk the extension into the woods. A bit more than halfway round the extension we found a puddle. A fairly large puddle. It was about 2m long and took up almost all of the width of the path. The remainder of the width had been churned up by an army of boots. We attempted a crossing, but when I sank up to my ankle I told Scamp not to even think about it. A bloke we had passed earlier said he wasn't bothered about it because he'd his work boots on. I think they must have been calf length boots, because he just waded on through the middle of this mini-loch, following his dog. We turned back, feeling like a couple of softies!
We warned a couple of people about the flood. Some carried on regardless, others took our advice and turned back. Next time I'm taking wellies.
We had to walk back the way we'd come, but that wasn't an onerous task because the light today was beautiful. A low sun meant the light was blinding at times, but it was worth it. Took a few more bird shots with the Tamron and realised just how effective the in-lens anti shake was. Lots of people out walking round the pond, so we avoided most of them by extending our walk even further to take in what we've called the Exercise Machine path. It's got all these brightly coloured, but essentially unused exercise machines all along its length. Mainly they are used by teenagers as seats or by the curious who will suffer the consequences next day. Just as we were coming home my Fitbit pinged to tell me I'd done my 10,000 steps (now I'm up to 14,000, a respectable amount.
It was good to get out in the sunshine, even if it felt quite cold at times. I ended up with a sore back from carrying the heavy lens and a camera bag too, but I shared the load with the bag across my back and the camera on my shoulder strap. Scamp had cramp in her toe on the last leg of the walk, but soldiered on.
That was about it for the day. The morning had turned into afternoon by the time we got back and soon you could feel that the sun was heading for the horizon. Days are short in a Scottish winter and light is always in short supply. I think we made the most of the day.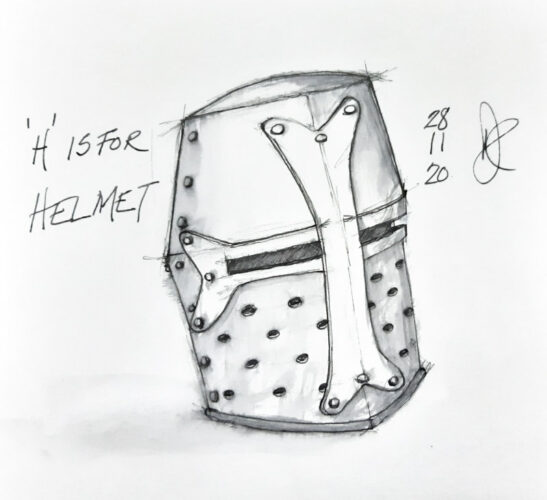 Today's letter was 'H' and I chose Helmet. I'd already drawn an easy jet-style motorcycle helmet for Inktober, so I chose a Crusader style knight's helmet today. Imagine having to wear that piece of headgear when you were going into battle. They must have been tough guys those knights. The horses that carried them must have been tougher still. While we moan and groan about having to wear a mask when we go into a shop, or have to wear one to work. We don't know how lucky we are.
No plans for tomorrow, but there's rain in the forecast.