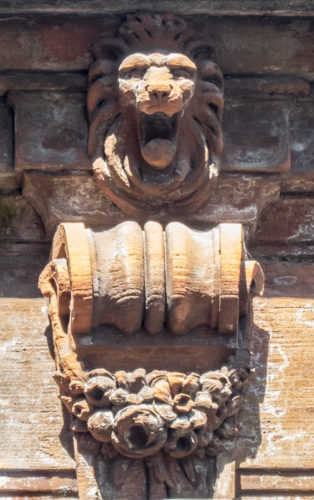 Dull day that started to smile in the afternoon.
Dancing the waltz is difficult, but we thought we had it fairly well under control until Michael showed us the next set of moves today. I'm sure in a couple of weeks they too will seem like child's play. Now they are just the next hurdle to be waltzed over. Jive was just as difficult as jive usually is. Now we're on spin number 4 of 7. It gets more complicated, even the men have a turn to do now. I've pretty much sorted out spins 1 and 2, 3 is a bit tricky and 4 is just a shambles. Instead of leading, I'm following, but that's not new. It's what I do most of the time. Still, it was enjoyable.
Walking back to the car in the sun provided today's PoD which is a sandstone carving of a lion at the corner of the old fruit market in Glasgow. I also took photos of the 'green men' above the doors of the building. I remember drawing one of them in ink wash many years ago. Lovely bits of stone mason's craft.
Back home I struggled with what was really a simple task of importing the photos into ON1. It's simple now that I know how to do it. It most certainly wasn't easy at the time, with hidden bits of menu that really should be more easily accessible.
Dinner was chicken breast wrapped in bacon and pan fried with boiled Jersey Royals and corn on the cob. Really tasty, Scamp. Also on the food front, I chopped up some strawberries and soaked them in vodka. They'll stay in the fridge for a few days to flavour our Strawberry Vodka and hopefully be drunk outside in the garden under the sun.
Portrait class tonight was a bit of a disaster. A bit like Spin 4 is just now, except we're more or less left to our own devices. I floundered a lot, trying to work out how to adapt the Loomis method to the head of the young boy we were drawing. It seemed, always, to make his head too fat. I think I'm missing something here. Must watch the videos again. On the way to pick up Fred for the class, I had to do some Genghis Pathfinder stuff to avoid the closed off road at St Mo's School where a lorry had shed its load of wood. Not the simplest of diversions and it occurred, of course, when the factories along the road were coming out, so everywhere was chok-a-block. Managed it though.
Tomorrow we're out early(ish). Hopefully before 11am, but I'll have to go out even earlier to get some (very expensive £1.26 /litre) petrol.