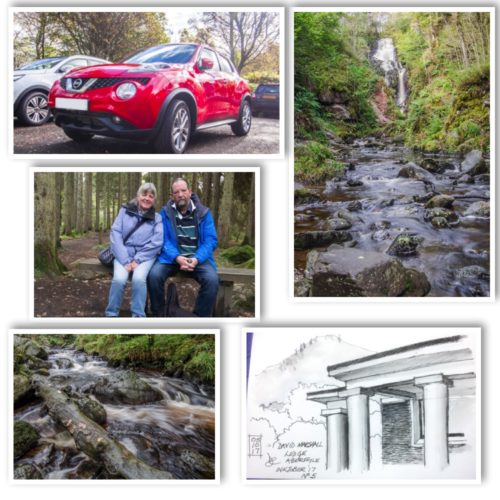 We had decided that if the day was good and sunny we'd go to DML to show it to the Red Juke. It was, and we did.
To make sure we were doing it right, we drove through 'Blue Rinse' Callander to take the Duke's Pass to DML. It will now be renamed the Juke's Pass. It was on this road that we realised one of the shortfalls of DAB radios. They are fine in the Central Belt and Glasgow, but take one to anywhere slightly hilly and out of town, for instance, the Juke's Pass and the reception becomes patchy to say the least. We stopped to try to figure it out which allowed the wee silver car in front of us, the one that only had first and second gear, to get away from us. Started off again and enabled Sport Mode. I can now verify that the Juke can corner with the best of them. Scamp doesn't like Sport Mode. Unfortunately she couldn't find the Zaphod Beeblebrox glasses. It goes like stink, even up the steepest hills.
We got to DML It's never going to be 'The Lodge'1 we parked in the designated place where we park every new car we get. It's a tradition as you well know. That's The Juke there in the picture, looking quite Flame Red.
We put our walking boots on. Mine clabbered in muck and Scamp's showroom clean and walked to the waterfall which was looking very dramatic today with the water running off a spate after yesterday and the day before's rain. The place was busy with a bus tour party, mostly American's. The Capital letter means they didn't get in my way while I was photographing the waterfall and weren't loud and shouty as they sometimes are.
Had a bowl of soup in the cafe that purported to be leek and potato, but no leeks or potatoes were observed although it had been blitzed to death, so any constituent parts would have been microscopic. However, it was hot (very hot) and warmed us up.
Drove back through Aberfoyle and stopped for coffee at the new place, the Smiddy near Blair Drummond. Coffee was ok, but not great and Ginger and Cranberry scone was worth experimenting with. We'll add it to our 'Worth Trying Again' list.
Stopped once more at Dobbies for Scamp to add another rose to her collection. This one was Peace. One of my mum's favourites.
Tomorrow if it's as good as today, we may go to Mugdock to a craft sale for a Dementia charity.
---
If you come from Larky, 'The Lodge' can either mean a protestant extremist organisation or a very secretive, but not secret (honest, nothing secret here) organisation. Both excuses for cheap bar prices. Count the 'rubber men' outside either of their premises and you'll agree. ↩