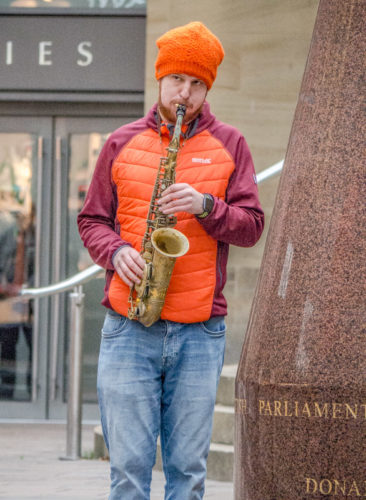 Today we went to Mugdock Park.
For the first time I actually used the satnav in the car. It worked perfectly. I knew how to get to Mugdock, but I wasn't sure how to get in to central Glasgow from there and the satnav got me there without a single wrong turn. We went to Mugdock to go to a craft exhibition in aid of Playlist for Dementia, after being alerted to the event by a friend of ours. Exhibition was interesting, with quite a few decent paintings and also some lovely wood carving pieces. I wanted to go in to Glasgow afterwards and that's where the satnav came into its own.
Saw some great places to photograph on the way in. Places I haven't seen for years, like a place on Balmore Road I went looking for a job away back in the early '70s. Didn't get the job, got another one instead. Moving from one job to another was so much easier in those days, not like now. We parked in the JL carpark and I used that other brilliant piece of new-tech, the reversing camera. Honestly, I don't know how I managed without it. In the street it's useful, but in a multi it's absolutely essential. We were on level 5 so we could just walk straight into JL which was convenient as I wanted to have a wistful, wishful look at an iMac. They had them in JL, but the model on display was an old-tech 2015 model. It might as well have been 1915, computers have moved on so quickly. It was running the latest Mac OS, but painfully slowly. Thankfully the ones in the Apple shop were up to date. For once, I'd say I'd trust them with my money before JL, but it's just a dream at present.
For lunch we went to the Russian restaurant we went to ages ago and boring me had the same starter and main I had then while Scamp went for a different selection, but wasn't impressed with it again. Hard to please, is Scamp. Of course I'm just the opposite. Happy with my lot 😉 Well, at least I was happy with my Borscht and Golubtzi.
On the way back I listened to a couple of blokes busking. The bloke on the guitar was ok, but the other one playing the sax was very good. That's him at the top of the page.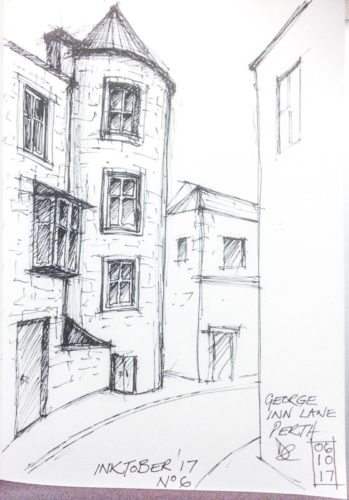 Sketch today was done from a photo. I just can't seem to gee my ginger and get some decent drawing done. Too much going on in my head I think. Must calm down, ground myself and my sketching will improve, I'm sure.
Trying out a new journal app now that Day One Classic has been dropped by Dropbox and is being retired by its makers. Day One 2 has been re-written and it's now free, but to get it to sync you have to pay a hefty annual subscription. I'm not a fan of being held to ransom by subscription, so I'm testing out Journey. It works on OSX, Windows, Android and Chrome. For some reason best known to the makers, it is not available as an app for IOS, but you can use a web based version for free from any platform. I may not be using IOS either soon as my phone contract is up half way through the month and I don't like the direction Apple are going with their mobiles. I think I will look at an Android instead.
Don't have plans for tomorrow. Wait and see, that's the byword.