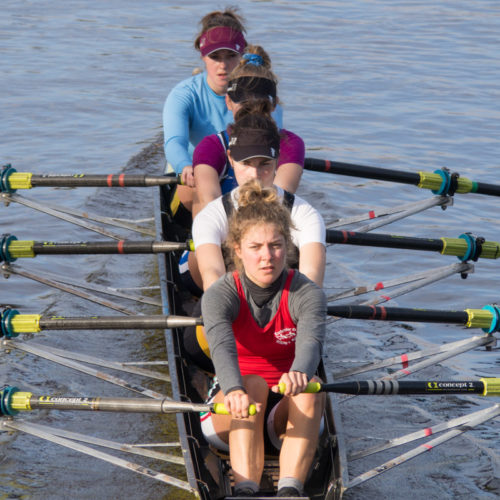 We've been talking about it for a while, now we had to walk the walk, literally.
Drove down to Glasgow Green and walked round our usual circuit of the dear green place. Although there was very little of the 'green' stuff visible. Most of it was covered with protective tracks to allow the lorrys pulling the fairground rides to park up. Tomorrow is Bonfire night and The Green usually hosts the fireworks display and to entertain the crowds and to make a few bob on the side, the funfair comes to town.
That wasn't all. Lots of rowers were out on the river. You could tell that the 8s and 4s were time-served crews, but some of the pairs and single sculls were ropey to say the least. The river was running dirty and full of debris. We watched half a tree, complete with leaves making its way downstream against groups of rowers attempting to head upstream. Eventually it was coaxed into the shallows on the park side of the river. Today's PoD was a tight crop on one of the rowing fours. I think Scamp's ankle was acting up because she wasn't interested in extending our walk and settled for watching the action from the suspension bridge.
Walked over to the People's Palace and had lunch in the Winter Garden. Such a shame that this lovely structure is to be closed indefinitely. In other words, it will be sealed off until it fails catastrophically, then it will be demolished as it is a H&S risk. That's cheaper than repairing it. The up side of this decision is that the Councillors Christmas Junket Fund is safe for the next few years.
Had my usual roll 'n' sausage and a cup of coffee. Scamp had peppermint tea and a piece of shortbread. Then we had a walk round the plants and saw some Dasheen which as far as we can remember is used for making Callaloo in Trinidad.
Drove back and while Scamp went out to dig up some gladioli from the front garden and 'do a bit of tidying up' there, I gathered my cameras and went for a walk to St Mo's. The most interesting thing I saw was a Caddis Fly wildly out of season. They usually hatch in late spring or at the beginning of summer. Poor wee thing looked quite shell-shocked, and no wonder.
Went over to St Mo's in the evening to see the firework display. Usual set of bangs and flashes, but notably a few purple lights in them for a change. What is it about purple? You don't see it all that often in fireworks. I'm guessing the chemical used to give that light is more expensive than most the other colours.
Tomorrow is Gems day. I may go to the gym and I may go in to Glasgow looking for drawing ink.