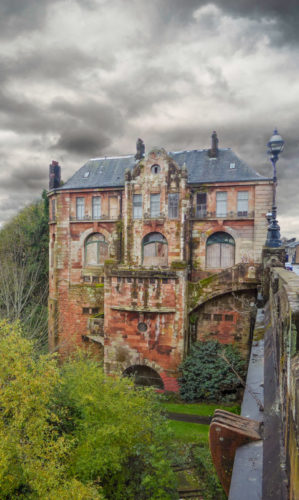 Today we went for a curry in Hamilton.
Since my brother mentioned he and his wife were going to the Bombay Cottage I've been hinting at Scamp that we should go back there for lunch. Today was that day. It was a dismal, dull, wet day and a curry for lunch sounded just the job. Parked across from the restaurant and got a window seat to boot! Food was excellent and the nan bread was the biggest I've ever seen. I'd have taken a photo but I hadn't brought the ultra wide angle lens! Really, it must have been over 60cm long. Scamp reckons it's been ten years since we've been there. I'm hoping it won't be another ten years before we're back.
After lunch we walked down into what used to be Hamilton town centre. This place used to be bustling on a Saturday afternoon, wet or not. Today all that was missing was the tumbleweed rolling down the road. It was described by one of the shopkeepers as "a ghost town". The streets were empty, half the shops were closed and boarded up and even the covered shopping centre was almost empty of customers. Another Scottish town that's had the heart ripped out of it. We bought some fish for tomorrow's dinner and that was about it. Couldn't believe the difference in this once thriving town. I managed to get the makings of today's PoD. A shot of Keith's Building in Cadzow street. This building has a chequered history to say the least. Some dodgy goings on used to happen in and around it, way back in the late '60s. Before we came home we visited Hazy's favourite shop in Hamilton. The Ink Spot. Part stationery shop, part art shop, part interesting little nicknack shop. An Aladdin's cave of goodies. It hasn't changed Hazy!
Drove home and although the streets were drying there were dark clouds seeming to drape down right to the horizon all the way round. Went to Tesco on the way home to get milk and a bottle of wine to cheer us up tonight. We didn't drink it all … honest! Spoke to Hazy and Neil on Skype until the connection started to fail on their end, after that we literally spoke to the icon of Hazy on our end although they were receiving both sound and video on their end.
Spent an hour working the first version of today's PoD up on ON1, only for it to go !PoP! and leave me with nothing. Went to speak to Duncan on the phone while I cooled down, then after I was done, calmly started again. This time I saved often between important changes and of course it didn't go !PoP! this time and the backups I'd made weren't needed. But, if I hadn't made those backups … !
Sketched a bit tonight using a mixture of fountain pen and dipper pen. I'm now looking for some brown / sepia fountain pen ink. I think it will need to be on-line!
Tomorrow? Apart from trout for dinner, there are no plans. It's supposed to be a better day than today. That wouldn't be difficult.