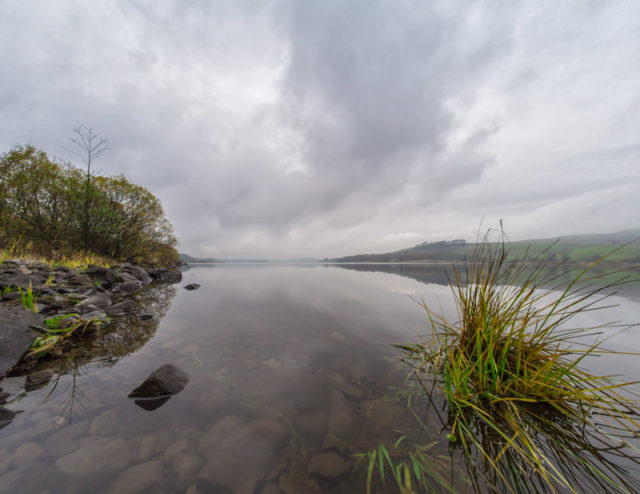 It's Monday. It's a Gems day. I need an excuse to get out.
Dull, damp, uninspiring morning. Hoping it would get better (brighter) later, I trawled through some photos in Flickr looking for inspiration. Saw a photo of Loch Lomond with the hills just dusted with snow. That would do. Millarochy Bay would be good if the light got a bit better. As one o' clock drew nearer and no decent light appeared, I was getting worried that it might end up being the Luggie Water or even St Mo's again, then I had a brainwave, or something like it. I'd go up over the Tak Ma Doon road and see what the weather was like on the other side of the hills, and that's what I did.
Passed a few cyclists on the climb of the Tak Ma Doon into the clouds and was glad I was in a car. Had a near miss with a wee white Citroen near the top of the climb, but I needn't have worried. The wee thing looked as if it was made from paper-thin steel and would probably just have bounced off the Juke and gone flying over the dyke and down the hill using the 'alternative route'. Crested the final rise and yes, the weather did look a bit lighter on the other side, although it was difficult to be sure because I was still in the low cloud. Noticed that the Faughlin Reservoir is now a stocked trout fishery with a stonking price of £25 per day. I used to fish it regularly some years ago for nothing. Then I remembered that that was thirty years ago! Drove on to Carron Reservoir and parked for a very realistic £2.
Walked up to past the dam and took some shots near a wooden seat dedicated to Pam Jackson, but couldn't find anything to say who she was.
Walked on and tried some bracketed exposures of the loch, but the light was fading, so I headed back to the car.
The PoD was taken near that seat and nearly got my feet wet again. Processed in ON1 2018 and in Lightroom. It gives the feel of the place. I would go back again on a day when the light was better.
Tomorrow we have no plans, but I'm sure something will come up to grab our attention.