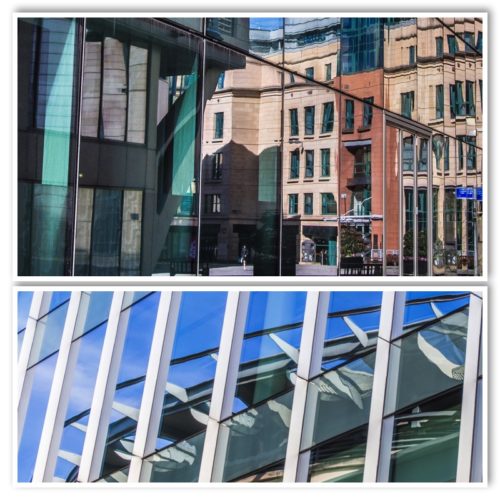 We took the train to Embra this morning in the sunshine that was predicted would last all day.  It did.  Blue skies over Embra, but also over Cumbersheugh which was a greater surprise.
Wandered up the Grassmarket and decided that we'd just have an early lunch at Petit Paris, except that it was 12.00 and we were half an hour too early.  Rather than be disappointed like yesterday, we sat in the Grassmarket in the sunshine and waited until nearly 12.30 and then made our way down to the restaurant.  Scamp had Soup de Provence and I had what I always have there, French Onion Soup because they do it so well.  For main we both had Poisson de Jour which for Scamp was Coley with Red Pepper Sauce, served with mashed potatoes.  Mine was the same, except they had run out of Coley, so I had Cod.  Same difference.   Scamp had a crêpe with Grand Marnier for pudding and I had coffee.  I took a risk and had a glass of house red with my meal.  Ha, ha Nick the Chick, I wipe my nose with your drink driving limit!
Walked back down the Grassmarket rather than go up past the Royal Mile and all the twee gift shops, because, to be honest, the only reason we were there was to have lunch.  Got a book I've been looking for, for ages in Waterstones and then got a cut-price Bergy jacket in Tiso's.  Actually it's exactly the same as the one I've had for ever except it doesn't have inside pockets.  Same style, same material almost, even same colour.  Boring, that's me.  It was a bargain.  You can't let a bargain go past, can you?
Back home we watched Best Marigold Hotel again.  Still has the same magic as the first time we saw it.
A lazy day in the sun.  Bought some fat hand made sausage rolls and some pork sausages too at the Farmers Market, so that's tomorrow and probably Monday's lunch sorted.  Hoping for more sunshine tomorrow.  Always hoping!