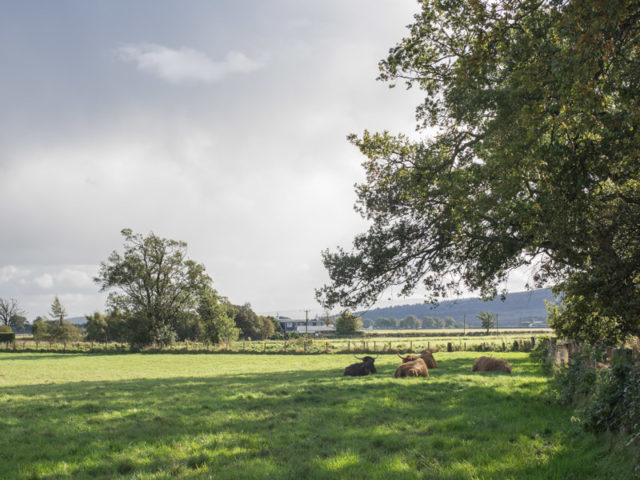 We should have been going to Embra on the train today, but it just didn't happen.
Instead we lounged about in the morning and for some of the afternoon, finally getting our act together and deciding that east or west were best today, because north and south were rain clouds waiting to dump their damp load on us if we ventured near them.
We decided to head in the general direction of Callander, home to the blue rinse brigade and Sunday drivers. However, Callander is North east and the key word there is North. The closer we got, the heavier the rain became and we eventually resigned ourselves to going to the Smiddy for lunch instead. Ahead of us lay the restaurant, but between it and us was a "Sunday Driver". She was doing 40mph on a busy 60mph road. Too much traffic travelling in the opposite direction to pass her. "Never mind, she'll be going to Callander", I thought. No, she was going to The Smiddy. It's a quite narrow road in to the restaurant, but wide enough for two cars to pass easily. Not so easy when Ms "Sunday Driver" wants to drive down the middle of the road, then stop because someone is coming the opposite way. Luckily she stopped near a cut off to a field and the poor bloke managed to find his way round her. People of that age shouldn't be allowed to drive a car. They should have to pass another driving test where there's not someone walking in front of them waving a red flag. Those were my printable suggestions. The others were more extreme.
Grabbed a few photos before we went in, because the lighting was interesting. I made a pano of a group of five shots, but because I was shooting into the light and there was light rain in the wind, the resulting image looked like it had been taken in a snow storm! Rejected. The best photo and PoD went to a touristy shot of Highland Cattle sheltering under a tree. Very pastoral and for once not faked … not faked much!
Inside we got a seat at a bench table, the last seat in the restaurant. Scamp had Mac 'n' Cheese and I had the Fishcakes, two of them. Thin as pancakes but fairly tasty. Some chopped up beetroot, some leaves and a large dollop of fairly crunchy and evidently home made coleslaw. I enjoyed it, but would I pay nearly a tenner for it? Probably not again. Prices in the shop were even more inflated. Some of the stuff it good and it's not everywhere you can buy Hanger Steak, or Flat Iron Steak, but I hate being ripped off. As you'll have guessed, we didn't buy anything.
Drove around the countryside on the way back and enjoyed the scenery, then it was on to the motorway and back to boring, but dry Cumbersheugh.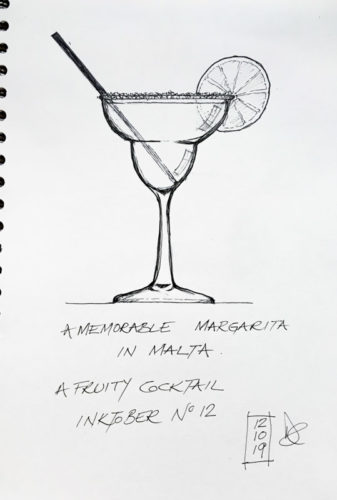 Today's topic was "A Fruity Cocktail." My choice was a Margarita.
This Margarita is memorable for being mixed in Malta and for its ability to steal my legs when I went to leave the table!
No plans for tomorrow. There may or may not be a GP tomorrow as it appears that the race might be postponed because of Typhoon Hagibis which hopefully will miss Suzuka.