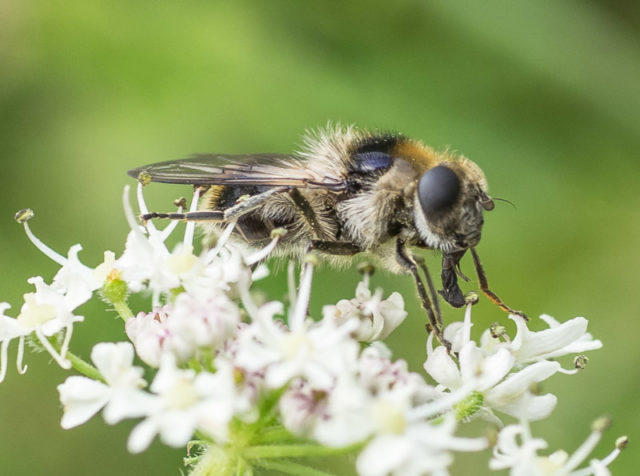 Woke to high winds and a bit of rain, but by the end of the day it was the heat that was in command
Today I was going to finish the waistcoat, or at least have it near enough finished that I could wear it. That was the challenge. Stitched it up and then faced the task of turning it outside in, or inside out, depending on the way you look at it. It was actually easier than I thought it would be. With that done, Scamp suggested I press it, and that's what I did. I hadn't realised how useful a pair of tweezers would be to help you pull out all those little corners that wanted to stay rounded and I wanted to be sharp. Finally got it pressed as flat as my sewing would allow, and that's when I found my mistake. In my wisdom I'd assumed you only needed to allow one opening to turn the thing outside in and had sewn up the other side, but the instructions that had seemed vague to me at first now became clear. I'd have to undo part of my wonderful sewing. Stitch-rippers are fun to use too. Soon got it sorted and all joined up properly so that it did indeed look like a wearable garment. It still needs the finishing hand sewing to fix the lining, but I'm hoping to do that tomorrow.
That took up most of the day, but I booked an hour before dinner to grab some beastie photos in St Mo's. That's where today's PoD came from. As well as getting some beasties, one beastie got me. Found a cleg chewing happily away at my hand. It won't bite anyone else in this world. Piriton to the rescue and also some Anthisan to be sure. Still stings a bit, but hopefully I caught it in time. I've been so careful making sure that I clear of ticks, I forgot about the ubiquitous Cleg.
Scamp drove us in to Glasgow for salsa tonight and I have to thank her for that. Although it was a fairly easy drive, the wind was dropping away and the heat was building in the early evening sunshine. It was good to be a passenger for once. New moves tonight were Archangel which was Angel with Gabriel bolted on to the end, Sombrero Doble which is actually three Sombreros and that good old standard, New One.
Just in case you though I'd made up the story about the Partick Samurai, here's the video to prove we did see it:
Tomorrow is to be even hotter than today and then we're to have heavy rain and thunderstorms at night. Oh what fun. No plans.