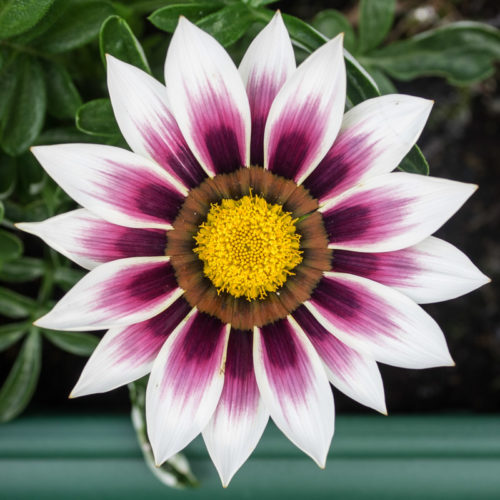 Another hot, hot day. Decided in the morning that a cooling run along the canal would be the thing to do.
In the morning, while Scamp was out buying Tesco and meeting June for coffee, I wandered round the garden taking some photos. Best one of the lot, or at least the most startling was this one of a fully open Gazania. It beat a spider and some pretty red Verbena to become PoD.
After lunch I got the Dewdrop for the first run for ages. Since April in fact! All it took was some air in the tyres and a slight adjustment to the front brakes. Took the front wheel off and with the back seats down and a tarpaulin over them as protection, it fitted perfectly into the back of the Juke for the short journey to Auchinstarry.
Fair few people out on bikes along the canal. Didn't go quite as far as Kirkintilloch, stopped about halfway between Twechar and the Board Burn. Cycled back along the line of the old mineral railway, hoping to get back into Kilsyth, but the path became too rough for the hybrid tyres and I had to go back and along the usual way to Auchinstarry. A good run and a few photos taken, but nothing spectacular enough to warrant posting.
Sat in the garden with a glass of sparkling water, but we both chose to have a Mojito after dinner. After dinner, but before the Mojitos, I finished off the sewing of the lining of the waistcoat. Now all I have to do is make the buttonholes. Not as easy as it sounds.
Tomorrow may be a day for dancing in the afternoon, but not in the evening. It's a long way to travel just for one class that isn't even our own, but we'll see what the day is like tomorrow. Thunder and lightning forecast overnight tonight.