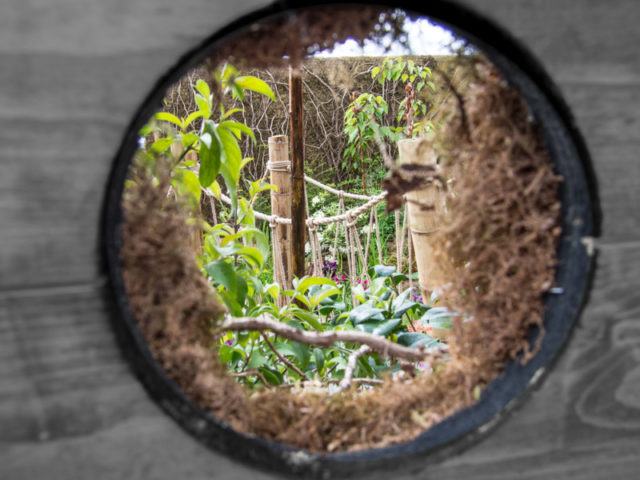 We had planned to go to Gardening Scotland in Embra today.  We had intended to get the train to Haymarket, then get a No 98 bus to Ingliston Show Ground.  That plan was scuppered when I woke with a pain in my stomach.  Actually, the pain had been there all night, on and off.  My prediction was trapped wind, possibly too much information there.  Anyway, there was no way we were getting the 10:12 train from Croy.
Just before 11am I made the decision to drive there.  Yes, there would be queues, but there would be queues for the bus too, and probably the train would be busy into the bargain.  We were driving, the die was cast.
The drive to Embra couldn't have been better, well, it could if some diddy hadn't decided Saturday would be a good day to plonk some cones on the road outside Grangemouth so half a dozen road menders could get a Saturday shift out of digging up a traffic island.  Looks like a plan.  Road will be busy with folk going to Gardening Scotland.  Nobody really believes the M8 is running smoothly, so let's dig up the M9 and cause chaos.  I really believe that's how these idiots think.
After Grangemouth-Gate we reached Embra without any further problem.  Parking was a dawdle with lots of guides to get you parked quickly and efficiently.  Then I managed to ping the crown off one of my teeth.  Tiny wee thing, but my tongue still manages to find the crevice it was covering.  Walked the half a mile to the entrance gate.  It was only when we got there, Scamp realised she'd left her purse in the car.  We walked all the way back, retrieved the purse, walked back and went in.  Almost felt sorry for the 'Fat Family' who were just about to pay up when an official told them they couldn't take a dog in with them.  It wasn't a dog, it was a Pug.  Mrs Fat shouted to Mr Fat "Hold it.  They say we can't take the dog in."  Mr Fat replied "Can't take the dog in?"  Mrs Fat "Can't take the dog in."  (Don't you just love conversations like that?)  Then Mr Fat said "You could take dogs in last year."  However, the official was adamant that No, you couldn't take the dog in, and No you couldn't take it in last year either.  Unfortunately, at that point Scamp had paid and we were in, so I don't know the upshot of Pug-Gate.  It did entertain me for a wee while.
We had hoped for Chelsea with heather and thistles, but this was more of a horticultural show / shopping experience than a garden show.  That said it didn't prevent us from buying lots of plants and a neat little trolly to drag them home with.  I think we would go again next year all being well, but probably go on the Friday when everything was sparkling and new.
Back home the M8 and drove through a thunder storm then managed to miss the Stirling turn off for the second time in a couple of weeks.  Must be more observant.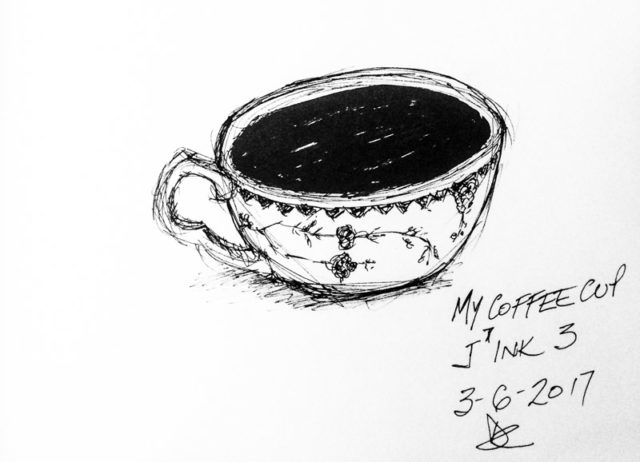 Today's sketch was a last minute affair.  Nothing fantastic, just a coffee cup.
Not sure what's happening tomorrow.  Depends on my insides again.