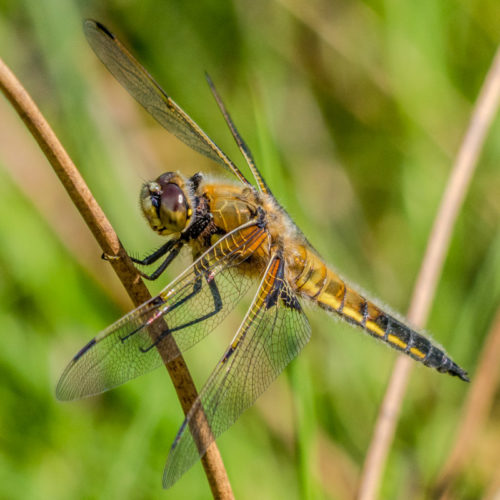 We had intended going to the West End Festival in Glasgow today, but decided to have a lazy day at home instead.  There was to be no procession and that's the highlight of the event every year.
Scamp got busy planting, planting and more planting.  Me?  I went for a walk instead.  Walked around St Mo's and got a few photos of a couple of mating damselflies.  I was using the Oly 10 because it was the most versatile tool for general shooting.  The 45-200 zoom is a great lens and works well for close ups when you attach the extension tubes.  You lose a couple of stops of exposure, but it was a bright day again and exposure wasn't a problem.
On my second circuit of the pond, a dragonfly caught my eye.  Waited for it to land and get comfortable then got one shot before it flew away to circle the wee pond.  Then it returned to the same grass stem, but it wasn't comfortable and with each move I made it flew off.  Eventually it settled down on a reed and I got the shot above.  I was quite pleased with it.  It's a Four-spotted Chaser male as you probably already knew.  Set the shutter speed high (1/800) and aperture fairly deep (f9) and that amounted to an ISO of a manageable 1250.  You just couldn't do things like that with the Teazer, so it had a day at home.  The dragonfly is a Four-spotted Chaser male but you probably knew that already.  Lots more beastie pictures on the Flickr page.
Came home and Scamp was finished working in the garden.  Finished working, but not finished with the garden.  No, she wanted to get some photos of us sitting outside with our new drinks holders.  We got them yesterday as well as a barrow load of plants.  Set up the tripod, bolted on the Oly 5 only to find that the battery was flat and the spare one had just started charging.  I tried using the Teazer, but it's so hard to use without a flip up screen.  Eventually got the photo using Scamp's camera and it has already been sent out to all my readers I think.
Took my dodgy left knee to the physio to see what he could deduce from a bit of prodding and pulling.  His deduction was that it was a healthy knee.  He thinks I've maybe nicked a ligament at the back of the knee and it's now well on the way to being repaired.  He gave me some exercises to do and wouldn't take any payment.  Good guy.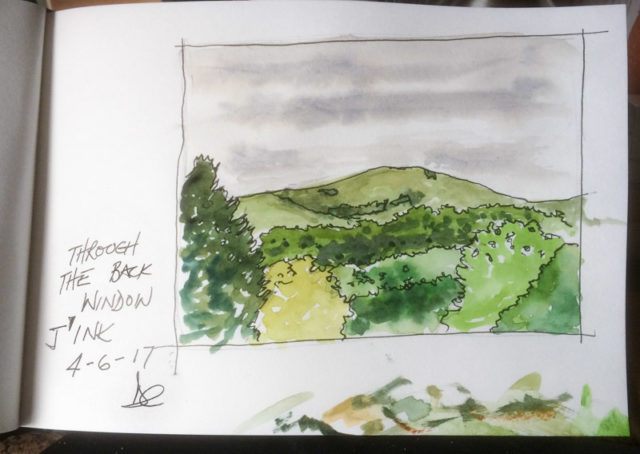 Today's sketch is of the Campsie Fells viewed through the back bedroom window.  Just a quick watercolour that gains entry into J' Ink because of the penwork.
The only fly in today's ointment is the fact that I've got a fasting blood test tomorrow morning and a full dance card for the rest of the day.  Never mind, it's all in a good cause.  May take my healthy knee out for a walk if the weather allows.