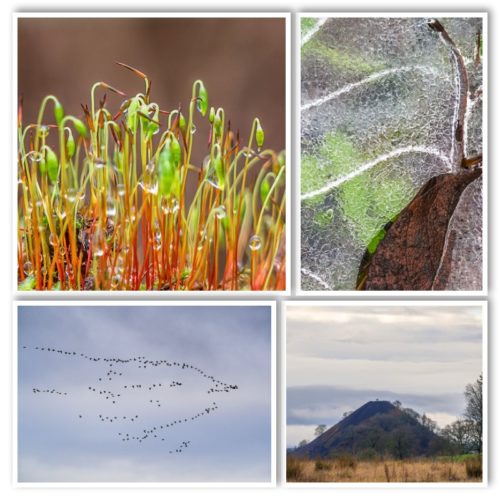 Half past one in the afternoon and I'm standing in the middle of an old coup that was previously a spoil tip for a coal mine. Now it's just wilderness and I'm watching and listening to skein after skein of geese flying overhead heading north. What do they know that we don't?
That was written much earlier in the day.  I'd cycled to the tip and by the time I was heading for home, an hour and a half later, the skeins were flying west, south and occasionally north, but not east.  By that time the light was failing and I imagine that these birds had been flying since first light some eight hours earlier and are now looking for somewhere to roost for the night.  There are quite a few fields around Cumbersheugh where geese feed and then roost.  That would explain the apparently contradictory flight paths.  It was great listening to the skeins as they 'talked' to each other.  Some will say that's not true, that they don't communicate, but if you listen, it does sound like they are sharing information with each other.
While I was walking around the tip, I got a few shots of folk on top of the Kirkie Volcano.  It's really a pit bing (spoil heap), but from this angle it looks just like a volcano.  One day I'm going to walk up it and take some photos from the top.  East Dunbarton Council should really make it into a visitor attraction with a wee coffee shop at the top.  It would make a fortune.  I may suggest it to them.
It was a lovely day today with a few showers of rain, but the temperature was decent, very decent for the time of year with highs of just over 10ºc.  Not quite shorts and tee shirts weather, but not far off it.  I did wander around in my shorts for a while, but it was too cool to cycle in them.  I saw the moss fruiting bodies (Green Blobs) when I was putting my cycling 'longs' (the opposite of shorts) back on and was quite impressed with the colour the camera caught.
Tomorrow is back to Gems in the afternoon, so I need somewhere to go.  Not sure where yet.  😉