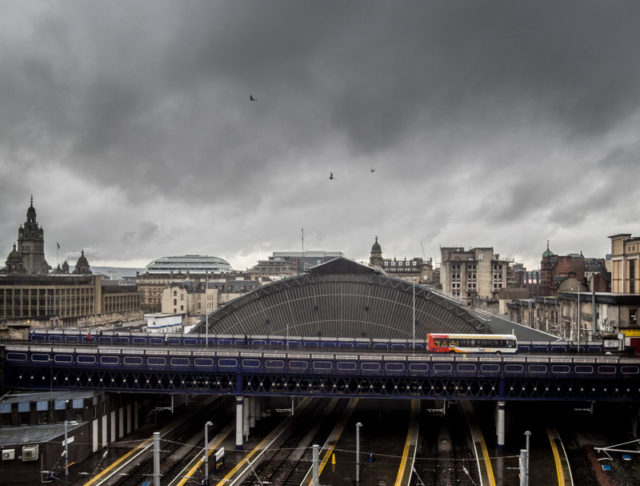 Now, I like Glasgow. It has beautiful architecture, some fairly decent shops and a good Cafe Nero, but Glasgow in the rain is like any other city in the rain – dismal.
I imagine that's what the picture at the top shows. Its description on Flickr said "It's Scotland. We specialize in gloomy." It was my PoD. I've become a lot less invasive with my editing since I got the iMac. Up until last week I was applying the techniques from the French bloke Serge Ramelli. They work well, but give a rather false look and everyone looks the same or similar. Since I got the iMac I've been experimenting with a much simpler and less extreme group of settings and I like that better than Mr Ramelli's technicolor marvels.
Photography aside, we went to Glasgow to get a party wig for Scamp who is going to said party on Friday. It's to be standard Halloween fare for the 'Witches'. Lots of drink, lots of food and a good laugh. Luckily it's girls only, so I am spared the excesses. Also luckily it's someone else's turn to drive, so I have Friday night off. We did eventually find a wig. Nothing very special, but at least we got one. Not in Glasgow, though. Everything there was overpriced and tacky. I had forgotten how many pop-up shops appear like toadstools around autumn. Each shop selling the same tat for the same price. Is there a cartel running here simply to fleece the unwary at Halloween. I know these same shops will disappear overnight on the 1st of November, then pop up again on the 2nd November disguised as jolly Xmas shops.
Spent the afternoon writing an email complaint to Vodies. Maybe that should be Vogons, because "Resistance is Useless" (Not 'Futile' – that was Star-trek.) Then set about cataloguing my photo collection using Lightroom. So far I've got from 2000 to 2004. A little bit at a time is the way to do it.
Salsa tonight was interesting for a while, but the 7.30 class was boring because it has shrunk again to about six couples, three of whom are 'advanced' helpers. Not at all good. It's due to close in three weeks.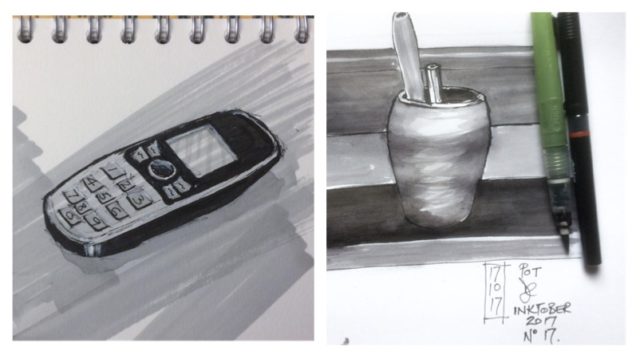 Today's sketch is the phone. Not nearly my best and yesterday's (done this afternoon!) was little better. Must try harder.
Tomorrow? Maybe Falkirk.