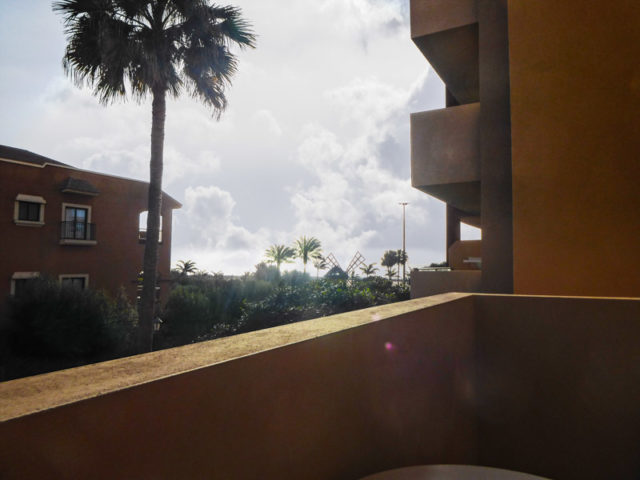 Today was to be Scamp's day.
I was up early to make Scamp her morning cup of white tea.  After that I sat on the balcony to watch the sun rise because the wind appeared to be coming from a different direction and not howling down the canyon between our hotel and the Sheraton next door.  That's where I got today's PoD.
After breakfast, we sat in the sun. The wind, which Fuerteventura is famous for, as well as being from a different direction, was less strong today. That was a double edged sword because it kept the temperature up, but also seemed to bring out the flies. They looked like house flies, but while some were tolerable, some (I'm guessing the females) had mouths like little syringes and seemed to like the taste of blood. Luckily the Jungle Formula we'd brought seemed to keep them at bay … for a while, but eventually we had to move.
We moved in the direction of the little island cafe out over the walkway into the sea. There Scamp had suggested we have a jug of sangria between us as a mid-morning pick-me-up. It worked. The wind was a bit stronger out on the island, but we found a sheltered spot that was warm, but not in direct sun.
After the sangria we walked back and had a light lunch. When we got back to the room we found a birthday card, a bottle of champagne and a little birthday cake complete with candle from the hotel management. It was a nice touch.
Later in the afternoon we walked in to Caleta and went to Fado Rock a favourite restaurant from our past. Scamp had a half chicken with chips and I had a half cow (giant ribeye steak) with chips. We got a taxi back to the hotel.
We found the kids club, eventually and saw Pepé, the multicoloured caterpillar leader of the kids club. Once Scamp had sung along with all the kids club songs and had a birthday wave from Pepé, we went for a few drinks in the reception bar where we listened to Tina and the karaoke until we couldn't stand it any longer, then went back to the room for another G&T each.
Tomorrow we may go for a walk down to the harbour of Caleta.